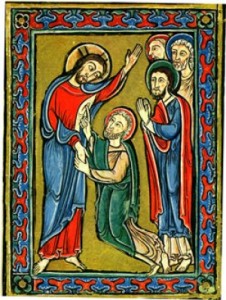 Today, in the Church, we have another one of those days with many names: first today is called Low Sunday in contrast with the high of Pascha. Then Quasimodo Sunday – from the Latin incipit for today's introit (where we heard that like new born babes we are to desire the spiritual milk of God's word in order to grow). Then today is sometimes called – White Sunday – as those baptized at Pascha were allowed to remove their white baptismal garments worn for the paschal octave, for eight days, as a symbol of purity and innocence.
Today is also called Thomas Sunday as we remember St. Thomas today in our gospel reading. Faith was not easy for St. Thomas, but once he was sure, he went to the utmost in faith and obedience. He never lacked courage. When Lazarus was raised from the dead and Jesus said that he would go on to Jerusalem, Thomas said "let us go with him that we may die with him." St. Thomas was martyred in India many years later; he gave his life in witness to Christ. The disciples on the evening of the first Easter were incapacitated with fear, this was understandable, given what they had seen: Jesus' arrest and trial, his death, the empty tomb, then the witness of Mary Magdalene that he was alive. They did not know what to make of all this – suddenly Jesus was in their midst and said, "peace be with you"- peace, not in the sense of freedom from troubles, but the peace, comfort, and joy that come only from giving your life to God, for true peace comes only from living with God. At first the disciples failed to accept the resurrection and realize the implications for their own lives – then Jesus was in their midst and they began to believe – their fear turned to joy as faith overcame fear. Our epistle today tells us that our faith in Christ brings us to victory over the world – victory over the world in rebellion against God.
Jesus said – "Peace be with you…" Then Jesus commissioned his disciples to continue his mission. He gave the Holy Spirit to them, that they could share good news, to share peace, and He gave them power to forgive sins. He gave them peace and joy – based in the reality that we are not alone, but God is with us. The Holy Spirit was given then, but lay dormant until Pentecost, even as the Holy Spirit is given at our baptisms, but may be dormant until we give God free opportunity to guide, direct, and work though us and to help us grow. Thomas was not with the others at first – and he doubted, but eight days later the disciples were gathered together again and this time Thomas was there. Again Jesus appeared and again he said "Peace be with you…"  Thomas was no more to blame for his doubt than the others who also wanted proof. Jesus gave it to them, touch me, he said – "do not be faithless but believing." Thomas answered – "my Lord and my God" – he answered with acceptance and adoration.
"Be not faithless but believing." We know that many people today are troubled, perhaps confused about the question of faith. What does it mean to have strong faith? Some people, if they have difficulty giving intellectual assent to what the Church teaches, want to change the teaching of the Church. We don't do that in the Orthodox Church, we can't do that – for we know the ways of God are often beyond our ability to understand and comprehend. Truth is not something that we make up, rather it is given to us by God. Instead of watering down the truth we are expected to live in the truth and to be challenged by it. God expects us to confront the truth, to engage it, to wrestle with it (even as Jacob wrestled with the angel). God honors the struggle and helps us along the way. Some things simply are hard to believe – like the resurrection – what does it mean to say that Christ rose from the dead? certainly it would be easier to think that Jesus rose "into the memory of the Church" – but that sort of easy, fuzzy, polite faith has no ability to cure and save and transform us to be what we are created to be – because that is ultimately faith in ourselves and faith in our ability to reason, rather than faith in God.
Faith is different from knowledge. In the Epistle to the Hebrews we find: Now faith is the substance of things hoped for, the evidence of things not seen. Faith is something deep inside us. It is basic, fundamental – it shapes the way we live. To say "I believe that 4+3 = 7″ does not really affect the way I live, but to say "I believe in God" gives understanding, purpose, direction, and focus. It changes everything, especially when you believe in God who has revealed himself as our good and loving Father, the Son who lived as a man, died and rose again for us, and the Holy Spirit, the Lord and giver of life, who continues to strengthen and guide us. To have a strong faith means that our lives are guided by these realities. If our faith is weak at times, let us continue to search and struggle and strive to be like St. Thomas and seek to touch Jesus – to be shown the reality of God who suffered and died and rose again for us.
St. Gregory the Great said that: "divine compassion brought it about in a wonderful way that when the doubting disciple touched the wounds in his master's body, he cured the wounds of our unbelief. Thomas' unbelief was of more advantage to our faith than the faith of the believing disciples… After his resurrection Jesus allowed his disciple to doubt, but he did not desert him in his doubt."  Our Lord said, "Blessed are they who have not seen and yet have believed." St. Gregory continues: "that person truly believes who expresses his belief in his works."
In other words, we live by our faith. In faith we are called to walk with God, to talk with God, to trust, to receive God's many blessings, to grow and mature, to show in our lives that truly – Christ is risen from the dead – for this is our faith.