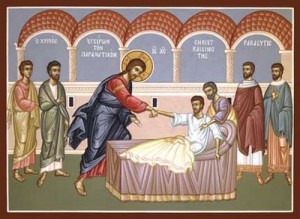 Our Gospel reading today presents us with a story of friends of someone in need, coming to encounter the power and authority of God, lovingly manifested in forgiveness and healing. We are told that Our Lord Jesus Christ crossed over the Sea of Galilee in a boat and entered into his own city – meaning that he came into Capernaum, the base for much of his ministry. Capernaum was located on the north shore of the Sea of Galilee, near the road to Damascus. It was also home for Andrew, Peter, James, John and Matthew. Today pilgrims are able to visit the ruins of the ancient town, which include the floor of the synagogue where Jesus taught and the ruins of the house of Simon Peter's mother-in-law. In Capernaum, St. Matthew tell us, a man who could not walk was brought to Jesus. The gospels of Mark and Luke present a much more dramatic scene – the crowd coming to see Jesus was so large that the men bringing their friend could not get into the house, so they went up on top of the house, pulled back the roof and lowered their friend down, on his bed, to be near Jesus. Jesus, seeing this act of determined love, was moved by the faith and prayers of these men for their friend.
Jesus said to the man "Be of good cheer – take courage, your sins are forgiven." What a strange thing to say to a sick person. What was Christ saying? We believe in healing of body and spirit: sometimes we are sick in our bodies and we needed physical healing. Then at times we are sick in our thoughts and feelings, our hearts and souls. Whatever the need, only God can grant the healing, whether it comes about by the ministration of doctors and nurses, medication, simple rest and recuperation, or by some more dramatic means. God, we believe, is the source of all life and health – all healing is a gift from God. The man that day was paralyzed: we can be paralyzed in our bodies or paralyzed to say or do what is right – God offers healing and forgiveness.
Christ our God forgave and healed so many people. Simon Peter was sick in his heart, we can barely imagine the pain he experienced after he denied his Savior, his teacher and his friend, he denied Jesus three times, denying that he even knew the man. Jesus loved him, forgave him, healed him and Peter went on to be a great preacher, leader of the Apostles and missionary. Then we might remember St. Photini – the Samaritan woman Jesus met at the well as she came to draw water. Jesus looked into her heart and saw a life of sorrow and broken relationships – Jesus offered forgiveness and healing for her life – as medicine for her sickness, Jesus offered living water that would quench all thirst and bring one to real life. And we recall St. Dismas, the penitent thief on the Cross, every time we receive Holy Communion, as we pray "Like the thief will I confess thee: remember me, O Lord in thy kingdom…" Jesus looking from one cross to the other saw the humility and repentance of a thief and said to him "today you will be with me in paradise." Jesus did not save Dismas from the Cross, but forgave him, healed him and saved him. Christ has authority to forgive – this is a sign of His power – and with this forgiveness comes healing. God forgives and heals and this in turn points us on towards the true meaning of the resurrection.
Of our gospel reading today, St. Ambrose (in the 4th c.) said: "in this (encounter, Christ)… gives the complete likeness of the resurrection. Healing wounds of mind and body, he forgives the sins of souls and makes an end of the infirmity of the flesh: this is to cure the whole man. And though it is a great thing to forgive men their sins… nevertheless, it is a much more divine work to give resurrection to their bodies; because the Lord himself is the resurrection… [the man] is bidden not only to take up his bed, but also to return to his house; that is, he is told to return to Paradise; for [paradise] is man's true home…" The promise of sharing in Christ's resurrected life means that God will heal our wounds of mind and body so that we may live with him – that we may live as we were meant to be. That day in Capernaum – no one could see the signs of inner healing that came from Jesus' forgiveness and as an answer to the prayers of faith, but the physical healing that day was an outward sign of what happened in the man's heart. The people saw this and praised God for what he had done.
God heard the prayers of the man's friends and gave him what was needed – both forgiveness and healing. When we are concerned for someone in need, or if we ourselves are in need, we must bring this need to God in prayer and trust that God will answer in the way that is best, remembering that inner healing, spiritual healing, healing of heart and soul is of far greater ultimate importance.
Many of the Fathers of the Church point out that this story of healing began by Jesus getting into a boat and the boat is typically symbolic of the Church. Healing and forgiveness both come to us through life in the Church: especially in the Holy Mysteries – in the medicine of Holy Communion, in Unction (anointing with Holy Oil), in Sacramental Confession where we bring our own spiritual illnesses to God for forgiveness and healing -and through hearing Holy Scripture, hearing the witness of those who have gone before us, supporting one another along the way. All these elements of life in the Church work toward a life of health and wholeness. The Church even helps us to prepare for a good death, for we choose the life we will live forever by the life we live now. If we chose life, if we chose to live with God, all that is needed is offered to us through life in the Church. When we return to God, we too hear those joy-filled words: "be of good cheer, your sins are forgiven, rise and return to your true home."
When someone is in need we must bring them to Christ – whether we physically bring them into the Church or we bring them to God in our prayers. Here we find wondrous things. Here we find life and health, nourishment and guidance. Here we praise God for the many blessings he gives to us. We give thanks for the healing and forgiveness that come only from God. May we have courage and wisdom and faith to seek these beautiful gifts, and then may we have enough compassion in our hearts to help others find them as well.