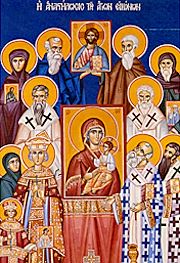 "Behold, now is the accepted time; behold, now is the day of salvation (II Cor. 6)." We are now in a time of preparation for Pascha, when the love of God destroyed the ultimate power of sin and death. The Church calls us to increased prayer and fasting, to increased almsgiving, to self-examination and confession. We are called to prepare our hearts and souls and return to God.
On this first Sunday of Lent, the Orthodox Church celebrates the Triumph of Orthodoxy, the triumph of the Orthodox faith over heresy. It was on this day in the year 842 that the Empress Theodora and St. Methodius of Constantinople restored the icons to the churches, overcoming the heresy of iconoclasm. Refuting those who said that it was wrong to make a material image of God or of the saints, and even more wrong to venerate that object, the Church teaches us that God has made an icon of Himself in Jesus Christ. St. Paul tells us that Christ is the perfect image — the icon — of the Father. And in a similar, though imperfect way, the saints have also been icons or images of Christ, and what it means to be a Christian. When we make and venerate an icon, we are not worshiping a board with a picture painted upon it, our worship is reserved for God alone – Father, Son, and Holy Spirit. When we venerate an icon we are showing our love, our respect, our desire to follow what the icon shows us. When we kiss an icon of Christ, in our hearts, we are kissing Christ Himself.
Gradually over the years, in addition to the return of the icons, the Sunday of Orthodoxy has come to celebrate the whole of the Orthodox Faith. Our Lord Jesus Christ established His Church, called it into being, gave it direction and order, for the purpose of bringing the world back to God. We are made in the image and likeness of God, but this gift was tarnished and wounded by the disobedience of man, by man turning away from God. Instead of living as icons of God, we sought to serve ourselves, and so death entered the world. It is in the Church, which is the mystical body of Christ on earth, that we find purification and healing, that we find the road which leads us back to God. We also know the Church as the Bride of Christ, as in the relationship between Christ and His Church we find the true meaning of love, as Christ gives His life, that His Bride and Her children might share in His life.
Most often we think of the word "orthodox" as meaning what is right and true, especially in terms of the teaching of the Church — and this is certainly true of the Orthodox Church which has faithfully kept the teaching of Christ and the Apostles, without addition or subtraction — and in this we find the fulfillment of Christ's promise that the Holy Spirit will guide the Church into all truth. But there is more to being Orthodox than simply holding the right doctrine. Orthodoxy literally means right praise, right glory, right worship. To be Orthodox means to give right worship to the One true and living God. To be Orthodox means to worship the real God revealed to us in Scripture and in the life of the Church, and not a god of our own making. One of our bishops commented that he had looked through the channels on television one Sunday; he said, "I heard twelve Christ's proclaimed this morning — not one of them was ours." We must seek to worship God as He is, and not as we would like Him to be. We are to come together, with open and loving hearts, to praise and adore our God, to give thanks for all we have received, to confess how we have missed the mark of living as an icon of God, to ask for those things that are needed for life, and to be fed with Word and Sacrament. Our worship is to be corporate, for we are members of the body. We are to be both reverent and joyful, and our worship is to be as the Church guides us, thus avoiding emotionalism or "trendiness"– two problems which usually focus the attention on the worshiper instead of focusing the worshipers heart and mind on God.
An equally important aspect of being Orthodox is right living — Orthopraxis; we continue our worship by the way we live. Faith that is real is lived out in the events of our day to day lives. Our Orthodoxy is meaningless if we come to Liturgy, kiss the icon and light our candle and say the Creed the right way, and then spend the rest of our week as though nothing had happened to us on Sunday morning. If we receive the Body and Blood of Christ into our bodies, there is no longer place for wickedness in us. To be Orthodox means to be on the road back to God. Yes, we rightly say that life in the Church is a foretaste of life in the kingdom, but entry into the Orthodox Church is not our final goal, but the right way to our goal — our goal is nothing less than life with God. To be Orthodox we need to examine our lives and seek healing and correction from God, making use of His gift of the Sacrament of confession. To be Orthodox means that we spend time in prayer, for if we love God we will want to spend time with Him. To be Orthodox means that we will love our neighbors, striving to be Christ-like in our relations with family and friends and others. To be Orthodox means to fight against temptation, as Christ did in our Gospel today, putting on the whole armor of God. To be Orthodox means that we strive to follow Christ in the way we live. Right faith, right worship, right living — all combine to help restore the image of God within us, bringing us back to be as we were created to be.
As we enter this holy season of Lent, let us heed the words of St. Paul in our Epistle today, "Behold, now is the accepted time; behold, now is the day of salvation." With all the help God offers to us through the Church, may we strive to restore the image of God within us. As God is loving, we are to be loving. As God is forgiving, so we are to be forgiving. As God is merciful and generous, so we are to be merciful and generous. As God is pure and holy, so we are to be pure and holy. These and all other good things are truly offered to us — and we may receive them to the degree we give ourselves to God. May we pray for the grace to give ourselves completely to God.
Our Lord Jesus Christ is the perfect icon, the perfect image of the Father. Even as the saints have been icons of God, although imperfect, in their time and place — so we too are called to be icons of God, here and now, at home, at work, at school. Now, as we prepare for Pascha, let us prepare by right faith, right worship, and right living, giving thanks for God's many blessings, that we may share in His holy and resurrected life.