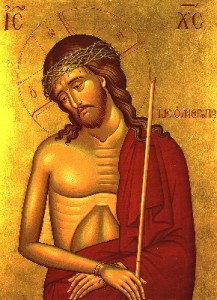 Each Friday evening during this Lenten season, we will meet at 6:30 for a pot-luck supper, followed by a class and discussion on our Lord's Sermon on the Mount. We end with the service of Stations of the Cross and the Litany of the Holy Name of Jesus.
Coin boxes are available for your offerings to help the hungry. During Advent, we collect canned goods to be given locally; the Lenten collection is designated for helping the needy throughout the Archdiocese. Grants from this offering are given to parishes or individuals who sponsor programs for helping others.
On Passion Sunday, April 21, we prepare to draw closer to the remembrance of our Lord's last days on the earth before his Crucifixion. The crosses in the church are veiled and the Gloria Patri is absent from the Introit and canticles we sing.
Please prepare to be present for as many of the Holy Week services as possible. Parking for week night services is certainly difficult. Some may wish to travel via Metro, and we will work on obtaining 'Visitor' passes to allow for parking on Euclid Street.
Confessions may be made after Vespers, during the Psalms at Matins and by appointment with Fr. Nicholas or Fr. Raphael.
Palm Sunday, April 28, Matins at 9am, Blessing of Palms and Mass at 9:30.
Holy Monday, April 29. Vespers at 7pm, Mass at 7:30.
Holy Tuesday, April 30. Vespers at 7pm, Mass at 7:30.
Holy Wednesday, May 1. Vespers at 7pm, Mass with Blessing of Oils and Unction at 7:30.
Holy Thursday, May 2. Vespers at 7pm, Mass at 7:30.
Good Friday, May 3, Liturgy at Noon.
Holy Saturday, May 4, Paschal Vigil at 9pm.
Easter Sunday, May 5, No Matins, Mass at 11am.
View the full April newsletter here.