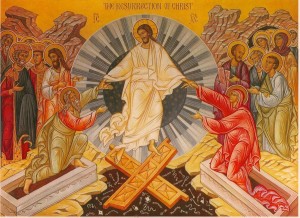 We share in the joy of Sister Michele Green, as she has now been clothed and received as a member of the religious community of nuns at the Monastery of the Transfiguration in Ellwood City, Pennsylvania. Thanks to the monastery's on-line streaming of all their services, we were able to witness the ceremony. We will continue to offer mutual prayers of support.
His Eminence Metropolitan JOSEPH has requested that we support the March for Marriage, which will take place in Washington on Saturday, April 25, in advance of the Supreme Court's decision regarding the ability of states to maintain legal marriage as between a man and a woman. This is a teaching of our Church and it is important that Orthodox Christians witness to our secular world by making known historic Christian beliefs.
Our Lenten classes will conclude on April 3 with a discussion of several modern "classic" writings on the spiritual life, including The Lenten Spring by the recently reposed Fr. Thomas Hopko. We begin with a Lenten pot-luck supper at 6:30 and end with Stations of the Cross.
View the complete April newsletter here.