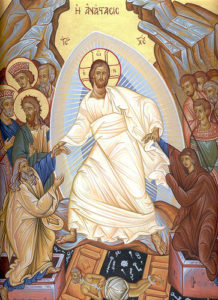 As we begin to settle into our new church home, we continue to beautify both the chapel, the exterior of the building, and the grounds. The Stations of the Cross, which were hung for the Lenten Friday services, will remain in place throughout the year and all are invited to walk these Stations as a form of personal devotion at any time. The text for the service can be found in the St. Gregory Prayer Book. Our large icons of Christ and the Theotokos, which were in storage for a year and a half, have also been hung, as have all the other icons.
Having land surrounding our church will afford us the opportunity to have processions in the beautiful and dramatic services of Holy Week now. On Palm Sunday, weather permitting, we will begin outside and process around the building with blessed palms before going into the chapel for the remainder of the Liturgy. We will do the same thing on Maundy Thursday as the Blessed Sacrament is taken from the Chapel to the Altar of Repose in the Parish Hall. (Please wear comfortable shoes for these processions!)
Holy Week at St. Gregory's
Palm Sunday – April 9 – Matins at 9AM; Blessing of Palms and Procession at 9:30 followed by High Mass with the singing of the Passion Gospel of St. Matthew
Holy Monday and Holy Tuesday – April 10, 11 – Vespers at 7PM, Mass at 7:30; Liturgy with the Passion Gospels of Ss Mark and Luke
Holy Wednesday – April 12 – Vespers at 7PM, Mass with the Blessing of the Oils and Unction at 7:30
Maundy Thursday – April 13 – Vespers at 7PM; Mass with the Foot Washing, Procession of the Sacrament to the Altar of Repose, and the Stripping of the Altar beginning at 7:30, with Tenebrae following.
Good Friday – April 14 – Mass of the Presanctified at 12 noon with the Passion Gospel of St. John and Veneration of the Cross
Holy Saturday – April 15 – Confessions at 8PM, Lighting of the New Fire and the Paschal Vigil beginning at 9:00.
Pascha – Easter Day – April 16 – Mass at 10AM (no Matins)
English: Christ is Risen! Indeed He is risen!
Arabic: El Messieh kahm! Hakken kahm!
Greek: Christos anesti! Alithos anesti!
Russian: Khristos voskrese! Voistinu voskrese!
Read the full April newsletter here.