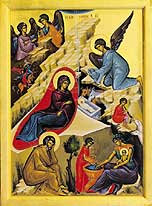 St. Gregory's has been blessed with the gift of a relic of St. Lucy, which was first offered for veneration on All Saints Day. Along with those of St. Gregory the Great, our patron, St. Nicholas, and St. Sebastian, her relics are kept on the altar at all times as a reminder of the communion of saints and that she and all the saints will intercede for us in heaven.
The season of Advent, beginning on Sunday, December 1, is a time of preparation. While the world hurries around us in its frenzy of spending and partying, we should be heeding our Lord's admonition: "Watch, for ye do not know what hour your Lord is coming." [Matt 24:42] We watch and prepare not only to celebrate the coming of our Lord to earth as a little child but also his coming at the end of time on the Day of Judgement. We prepare not only by giving presents, decorating, and singing carols but we prepare our hearts to meet the Messiah who came to save us from our sins and lead us back to heaven. Advent is also the beginning of the Church year on the western calendar.
There are many changes which appear in the church for the season of Advent. The vestments will now be purple, the color for penitential times; the readings for Vespers, Matins and Mass will concentrate on the theme of repentance and being ready (with St. John the Baptist – the forerunner – prominent in the readings); the hymns and choir chants will continue this theme. It is our custom to change the musical settings for the Ordinary of the Mass (Kyrie, etc.) to that of the Missa Marialis and the proper Office hymns and Marian anthems also change with this season. All these things will help to focus our attention on the coming of our Lord.
As part of our Advent preparations, we will resume our annual "Food for the Hungry" collection. Please bring canned and packaged food to share with those in our community who are in need. This year, we are also assembling Health Kits for International Orthodox Christian Charities. Items collected will be sent to aid those in the Philippines who have lost so much or in other parts of the world suffering from natural disasters or war.
Please speak to Fr. Nicholas or Fr. Raphael to schedule making your confession before Christmas. This is an important part of our Orthodox life and another means for preparing for the celebration of the Incarnation.
The Advent fast should be observed thoughtfully and prayerfully. If you need help in determining what would be best for you and your family, please speak with Fr. Nicholas.
A service of Advent Lessons and Carols will be offered at 6:00 pm on Saturday, December 20, in place of our usual Vespers service. The readings of Old Testament prophecies and of the events leading up to the birth of Our Lord call our minds to focus on the true meaning of this season – that "the Word was made flesh and dwelt among us." [John 1:14] This is a good time to invite family or friends to come to church with you.
On Christmas Eve, December 24, confessions will be heard from 8:30 – 9:30 pm and the first Mass of Christmas will be celebrated at 10:00 pm. On Wednesday, January 1, the Feast of the Circumcision of Our Lord, Liturgy will be at 10:00 am, preceded by Matins at 9:30 and followed by a pot-luck brunch.
Christ is born! Glorify Him!  
View the complete December newsletter here.