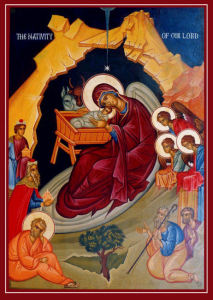 There will be two events in Advent to help us prepare for celebrating the Nativity of Our Lord Jesus Christ. The first is a time of reflecting for the women of the parish on Saturday, December 6 beginning at 3:30PM. Presbytera Catherine will lead a discussion of the book The One Thing Needful: Meditations for the Busy Orthodox Woman by Colette Jonopulos. The second will be our annual service of Lessons and Carols on Saturday, December 20 at 6PM (in lieu of our normal Vespers service). We will hear readings from the Prophets foretelling the birth of Christ and sing Advent hymns and carols.
The enthronement of Metropolitan JOSEPH will be held on Saturday, December 6, at the Cathedral of St. Nicholas in Brooklyn. The ceremonies will be broadcast live and can be viewed on www.ancientfaith.com. The enthronement will begin at 4:30PM on Saturday. On Sunday, the Patriarchal Divine Liturgy beginning with Orthros will be at 9:30AM.
We will not have Vespers at St. Gregory's on Saturday, December 11, as His Beatitude Patriarch JOHN X and His Eminence Metropolitan JOSEPH will be at Ss. Peter & Paul Church in Potomac, MD for a Vespers service at 5:30PM. All are encouraged to attend this service and pray with these hierarchs of our Antiochian Orthodox Patriarchate.
Our collection of canned goods for the Archdiocesan Food for the Hungry program, which we donate to Martha's Table, a feeding program in our neighborhood, will continue through Advent until Epiphany. As we prepare our Christmas feasts, remember those who are hungry and in need of our help.
View the full December newsletter here.