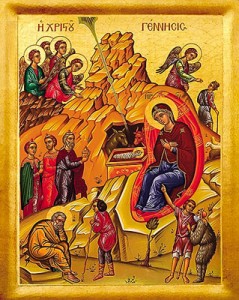 We end the calendar year and begin the Western Rite liturgical year preparing for the festival in which we celebrate the Incarnation of Our Lord Jesus Christ. On Saturday, December 8, we will observe the feast of the Conception of the Blessed Virgin Mary with Matins at 9:30AM, Mass at 10:00 and a pot-luck brunch following. In place of Vespers on Saturday, December 15, we will prepare for Christmas with our annual service of Advent Lessons and Carols. This quiet service of Scripture readings and hymns offers a respite from the frenzy of the world's activities at this time of year.
On Christmas Eve, confessions will be heard by Fr. Nicholas and Fr. Raphael beginning at 8:30PM. A time for carols and other musical offerings will begin at 9:30 and the first Mass of Christmas will be celebrated at 10:00. Christ is born! Glorify Him!
We bid farewell to Brian David Green this month, as he leaves for Marine Corps basic training. We will miss him at St. Gregory's (particularly in the choir) and we will continue to pray for him as he serves our country.
We are taking the concept of recycling to greater lengths at St. Gregory's. In addition to recycling the usual plastic, glass and metal, and paper, we are also recycling the stubs of altar candles. We have acquired the equipment (and skills) to make new candles from these stubs. The pillar candles at the lectern, the pulpit and the icon stand at the entrance have been made from these remnants, and the candles in the Advent wreath were made from the old used Advent candles.
View the full December newsletter here.