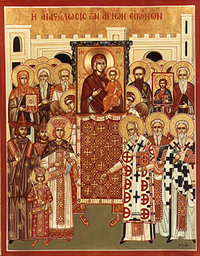 In the month of February, we move from the Church's liturgical cycle which is based on the Incarnation to that which points us to the Resurrection. The Presentation of Christ in the Temple (also called by other names: Candlemas, when candles for use in church are blessed; Purification of the Blessed Virgin Mary, commemorating her visit to the Temple in Jerusalem for ritual purifying forty days after giving birth; and in Eastern usage, the Meeting of the Lord for Simeon and Anna's meeting of Christ) occurs on February 2. We will celebrate this feast on Thursday evening, February 1, with Vespers at 7pm, Mass at 7:30 and a pot-luck supper afterward.
Ash Wednesday, the beginning of the Lenten season in Western Rite Orthodoxy, will be observed on February 21, with Vespers at 7pm, the blessing and imposition of ashes and Liturgy at 7:30, and a Lenten supper following. On Fridays in Lent, beginning on March 3, we will have light suppers at 6:30pm, a Lenten study, and Stations of the Cross.
At our annual Parish meeting on January 21, Keivan Shahrokhi and Dave Caldwell were elected (or re-elected) to the Parish Council. Our charitable outreach allocations for the year 2017 were announced: to the Manna Food Center, Shady Grove Pregnancy Center, Holy Transfiguration Monastery and Holy Assumption Monastery, IOCC, the OCMC Support a Priest program, and the various Archdiocesan appeals. We also collected 100 pounds of mostly canned goods for the Food For Hungry People program, which was donated to The Shepherd's Table in Silver Spring, and we continue to collect items for flood relief kits.
Read the complete February Newsletter here.