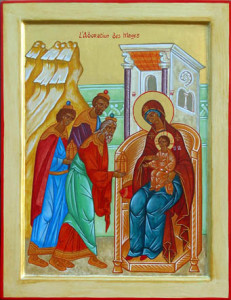 Thank you to all who made our Christmas celebrations so beautiful – to those who decorated, to the acolytes who served at the altar, to the choir for their music and to all who came to joyously share in the celebration of the Nativity of Our Lord. Christ is born! Glorify Him!
This first month of a new year begins with a continuation of the celebration of the twelve-day season of Christmas and with several feast days. On January 1, we observe the Circumcision of Our Lord with Mass at 10AM (preceded by Matins at 9:30) followed by a pot-luck brunch. We celebrate the Feast of the Epiphany on Monday, January 5, with the Blessing of Water at 7PM, Mass at 7:30, and pot-luck supper afterward.
As is the custom, our priests will bless the homes of parish members during the season of Epiphany. Please speak with Fr. Nicholas or Fr. Raphael to schedule your house blessing. This year, the season is short, ending with Septuagesima – Sunday, February 8. The water which is blessed at the Epiphany service is used to sprinkle homes as we pray that in them may abide "health, purity, victory, strength, humility, goodness, meekness, fulfillment of the Law, and giving of thanks to God the Father, the Son, and the Holy Ghost".
The parish's Annual Meeting will be held on Sunday, January 18. Coffee Hour will be a pot-luck luncheon after which reports will be made on the activities and finances of the parish and new members of the Parish Council will be elected.
The annual March for Life is an occasion for us to offer hospitality to those coming from other areas to participate. On Thursday, January 22, we plan to offer Mass (and provide breakfast) before going to the Mall for the March. Details for this will be discussed at coffee hours in the coming weeks.
Calendars for 2015 are available for a $5 contribution. This year's calendars picture churches in the autocephalous jurisdictions of the Orthodox Church.
At the end of December, the Parish Council disbursed our charitable giving for the past year: for refugee assistance in Syria, to IOCC, OCMC, and several monasteries.
Our Food for the Hungry collection will end on Sunday, January 4, at which time the canned and packaged goods will be weighed and reported to the Archdiocese and then given to Martha's Table for help in feeding the poor of our city.
View the full January newsletter here.