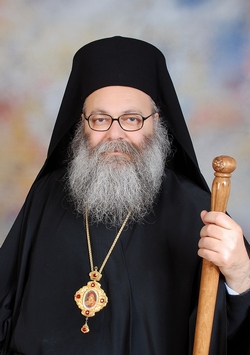 Axios! He is worthy! We give thanks for the election of Patriarch JOHN X as the new Patriarch of Antioch, even as we pray for the respose of the soul of our beloved Patriarch IGNATIUS IV.
Thank you to all who made our Christmas services so beautiful: acolytes, choir singers, those who decorated, those who cooked, and all who came to worship the newborn Babe, our Savior Jesus Christ.
The new calendar year begins with the Feast of the Circumcision of Our Lord. We will have Matins at 9:30 and Mass at 10:00am on January 1, followed by a pot-luck brunch. The Feast of the Epiphany falls on Sunday this year, so we will bless water at Vespers on Saturday, January 5, at 6:00pm. This water will be used throughout the season of Epiphany for the blessing of houses. Please speak to Fr. Nicholas or Fr. Raphael to schedule your house blessing.
Our annual Parish Meeting, in which we elect new members of the Parish Council and hear reports on various aspects of parish life, will be on Sunday, January 20. Please plan to bring food to share and to stay for this important gathering of our church family.
We will be blessed to receive Bishop JOHN (Auxiliary Bishop for the Diocese of Worcester and New England) on the weekend of January 26-27. This will be his first visitation to St. Gregory's since his appointment by the Metropolitan as the episcopal overseer for the Western Rite parishes. He will be with us for Vespers on Saturday and Matins and Liturgy on Sunday and will have many opportunities to get to know all of us.
View the full January newsletter here.