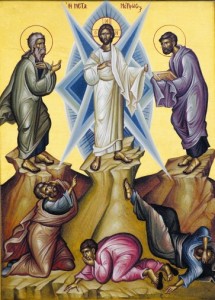 We welcome Sarah Sparks into the Holy Orthodox Church and to the family of St. Gregory's. Sarah was Chrismated on Pentecost and took Photini – the Samaritan woman at the well – as her patron saint.
Congratulations to Paul and Allyson Higgins, who were married at St. Gregory's on June 27 in a wonderful celebration. Thanks to all who prepared the reception. The renewal of their vows took place at St. Michael Roman Catholic Church, Allyson's parish church, on June 29. We pray for them as they begin their new life together.
Thanks to all who participated in the parish work day. Many people helped to clean, paint, and generally "spruce up", fueled by pizza. The results of the work are very visible and appreciated.
We have been informed by the Archdiocese that our parish has been transferred from the Diocese of New York and Washington (directly under Metropolitan PHILIP) to the Diocese of Charleston and the East under Bishop THOMAS. Since we have had visitations by Sayedna THOMAS a number of times, this will not be a major change for us. He and Bishop JOHN (the overseer of the Western Rite vicariate parishes) will share episcopal responsibility for us. We are greatly blessed by our godly bishops.
The annual Parish Life Conference for the Eastern Dioceses was held in Breinigsville, PA, July 3-7, hosted by St. Paul Orthodox Church in Emmaus. Fr. Nicholas, Kh. Rebecca, and Reader Simon (Karl Tsuji) attended. Western Rite Vespers, after seven years considered an expected part of the conference, was offered by the four Western Rite parishes of the region on Thursday, July 4. Fr. Nicholas will also attend the bi-annual Archdiocesan Convention in Houston, Texas, July 21-28. This is an opportunity for our whole Archdiocesan family to gather for worship, fellowship, and business.
In the month of August, we will celebrate two major feast days in the liturgical year: Our Lord's Transfiguration will be celebrated on the Eve, August 5, with Vespers at 7PM and Liturgy at 7:30. The Dormition (Assumption) of the Theotokos will be celebrated with Vespers and Liturgy on Wednesday, August 14. A pot-luck supper will follow each of these services. Saturday Vespers will be suspended for the month of August and will resume on Saturday, September 7.
View the full July – August newsletter here.