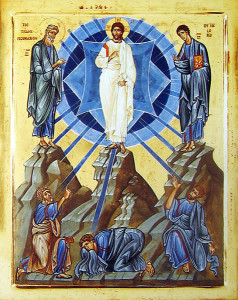 Parish News
Thanks to the many who helped with the Parish work day in June. We accomplished much-needed tasks around the building, including cleaning, painting, tree trimming and other gardening work, brass polishing, wax removal – and many others. We should do this more often!
Two of our church conferences occur in the month of July: the Eastern Region Parish Life Conference (the Diocese of Charleston and the Mid-Atlantic and the Diocese of New York and Washington DC), hosted this year by the parish of St. John in Levittown, New York, will be held July 1-5. Boston will be the setting for the Archdiocesan Convention July 20-26, and Patriarch JOHN will preside. Fr. Nicholas will attend both of these gatherings of our larger church family.
Two important feast days occur in August and we will have Liturgies to celebrate them: on Wednesday, August 5, we will observe the Eve of the Feast of the Transfiguration of Our Lord with Mass at 7:30PM preceded by Vespers at 7, and followed by a pot-luck supper. The Dormition (Assumption) of the Blessed Virgin Mary will be celebrated on Saturday morning, August 15, with Matins at 9:30AM, Mass at 10, and brunch following.
Two of our young people attended Antiochian Village Camp last month for the first time. Here are some of their observations. Nathan Caldwell (age 12): "AV Camp was an awesome place. All the activities were fun and the bookstore was cheap. Oh yeah, the cabins were comfortable." Ben Caldwell (age 11): "A normal day was church in the morning, then breakfast, morning program and lunch. We then had afternoon program, then had church and dinner. One of my favorite part was that my cabin didn't have to clean the restrooms because we kept our cabin so clean." We're sure that they also made many friends and learned more about our Orthodox faith!
View the full July / August Newsletter here.