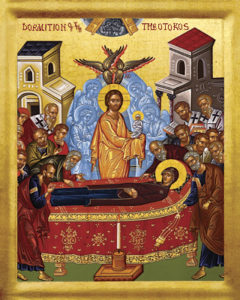 Summer is the time for vacations (remember to speak with Fr. Nicholas about the nearest Orthodox church if you are going to a new vacation destination), but also for church conferences. Our Eastern Region Parish Life Conference, which will be held at Antiochian Village is June 29-July 3. In what has now become a tradition, the Western Rite parishes will offer Vespers according to the Western rite on Friday, July 1, the Eve of the Visitation of the Blessed Virgin Mary. Kh. Becky will represent St. Gregory's at the Sacred Music Institute July 13-16 and will make several presentations on music for our services. Fr. Nicholas and Fr. Raphael will attend the Clergy Symposium July 18-22 where Fr. Nicholas will make a presentation on ministry to the dying. St. Patrick's Church in Bealton will host the Western Rite Conference this year August 9-12. Please see Fr. Nicholas if you would like to attend any of the events at this conference.
We will celebrate the Transfiguration of Our Lord on Saturday, August 6, with Mass at 10AM, preceded by Matins at 9:30, and our annual parish picnic will follow. We will have a luncheon cookout and games will be provided for outdoors and inside.
According to Archdiocesan directives, major feasts which fall on Mondays may be observed on the previous day, so we will celebrate the the Dormition (Assumption) of the Blessed Virgin Mary on Sunday, August 14 with services at the usual time.
Read the full July & August newsletter here.