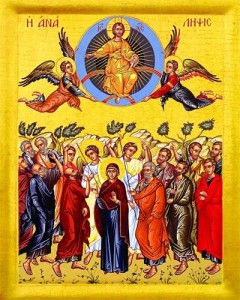 We will celebrate several of the great feast days in the liturgical year in the month of June. On June 9, the Fifth Sunday after Easter, we anticipate the Rogation days (Monday, Tuesday and Wednesday of the following week) by ending the service outside (weather permitting) to offer prayers for God's creation and bless the gardens.
Ascension Day will be celebrated on the Eve, Wednesday, June 12, with Vespers at 7:00, Liturgy at 7:30 and a pot-luck supper following. The Feast of Pentecost is on June 23 when we hear of the coming of the Holy Spirit to the Apostles and the establishing of the Church. As is our custom at St. Gregory's, we will read the story of that first Pentecost in as many languages as we can manage, recalling that the Apostles were able to miraculously be heard in the many languages represented in first-century Jerusalem. June 30 is Trinity Sunday, when we affirm our belief in the Triune God.
On June 9, we will also commemorate the one-year memorial for Carol Lackman with prayers for the departed at the end of Liturgy (new humeral veils to be used at Solemn Mass, which have been given in Carol's memory, will be blessed at this time).
A most joyous event will take place on Thursday, June 27, at 7:30PM in the church when Paul Higgins and Allyson Soulé will be joined in marriage. A reception will be held in the parish hall following the service. St. Gregory's members are all invited to join in this celebration.
Looking ahead, the Eastern Dioceses Parish Life Conference will be held near Allentown, PA, July 3-7. Please speak with Fr. Nicholas for more information.
View the full June newsletter here.