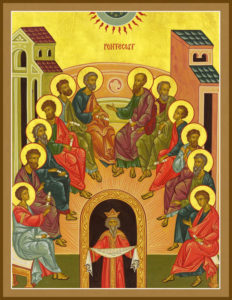 What a wonderful celebration we had when his grace, Bishop JOHN, visited our parish for the dedication of our new building! This property, which we purchased so many months ago, has now been thoroughly "baptized" for our use as a place to worship, partake of the Sacraments, and share the faith. We give thanks to God for this blessing.
We begin the month of June with the great feast of Pentecost, the giving of the Holy Spirit. At the Liturgy on June 4, a portion of the Epistle – the story of that moment when the Apostles were filled with the fire of the Holy Spirit and spoke in many tongues – will be read in as many languages as are represented in our parish.
On the following Sunday, June 11, we celebrate the feast of the Holy Trinity, a feast day which began in local churches and dioceses in the 9th century, first in Germany and then in Belgium and France, and was finally made official for the West in the 14th century. The feast of Corpus Christi (Thursday, June 16), celebrating the Presence of Our Lord in the Sacrament of Holy Communion, will be observed on the Sunday within its Octave, June 18.
Fr. Raphael and Kh. Catherine will be on a pilgrimage to the Holy Land, June 4 to 15. Their tour, which includes many holy places, will be led by Archbishop Michael (OCA Bishop of NY). We pray that this journey will be of great spiritual benefit for them.
The Parish Life Conference for the Diocese of Oakland, Charleston and the Mid-Atlantic and the Diocese of New York and Washington will be held in Morristown, New Jersey from June 28 to July 2.
Read the full June newsletter here.