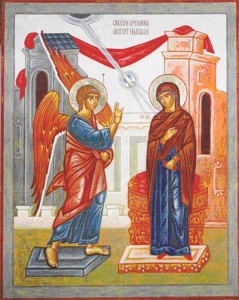 We will celebrate three important liturgical occasions this month: the feast of our patron, St. Gregory the Great, will be observed on the Eve of his feast day, Monday, March 11 and the Feast of the Annunciation on the evening of Monday, March 25. On both occasions, Vespers will be sung at 7PM, Mass will follow at 7:30, and a pot-luck supper will be enjoyed afterward. March 20, is Ash Wednesday in the Western Rite, the beginning of the season of Lent. The Imposition of Ashes and Mass will begin at 7:30. A light Lenten supper will follow. Sunday of Orthodoxy Vespers will be offered at Ss. Peter & Paul Church in Potomac on Sunday, March 24th, at 5:30pm.
Fr. Nicholas and Kh. Rebecca are moving to a new home as of March 1. Their new address is 9415 Wire Ave., Silver Spring, MD 20901. The church office phone number will also be changing soon.
View the full March newsletter here.