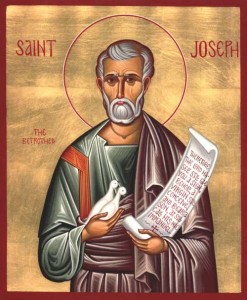 We begin the season of Lent with the service for the Imposition of Ashes and Mass on Ash Wednesday, March 5, at 7:30PM (Vespers will be at 7PM). A Lenten pot-luck supper will follow. For the remainder of the season, from March 14 until Holy Week, we will meet for a Lenten supper at 6:30PM on Fridays, with a brief class afterward, and ending with Stations of the Cross. These evenings are offered as a part of our Lenten discipline and all are encouraged to attend. Please remember that we are to be more intentional in our reading of Holy Scripture and the Lives of the Saints, in prayer and fasting, and in almsgiving during this season. Lenten coin boxes will be available for contributions for the Food for the Hungry program.
Two important feast days occur in the month of March: the feast day of our Patron, St. Gregory the Great is on March 12 and we will celebrate his festival on the eve, Tuesday, March 11, with Vespers at 7PM, Mass at 7:30 and a pot-luck supper following. We will celebrate the feast of the Annunciation on Monday, March 24, with the same schedule.
St. Katherine's Greek Orthodox Church in Falls Church, VA will host the Sunday of Orthodoxy Vespers at 5:30PM on the first Sunday of Lent, March 1. The speaker will be Metropolitan Anthony of the Ukrainian Archdiocese.
Fr. Nicholas has begun an "Ask Abouna" period of time at coffee hour on Sundays to answer your questions about Church teachings, liturgical practices, etc. He will try to limit answers to five minutes.
 View the complete March newsletter here.