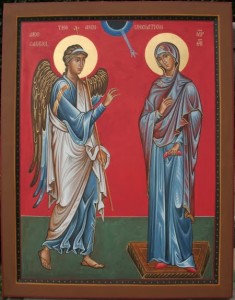 We will celebrate the Sunday of Orthodoxy with Vespers at Ss Peter & Paul Church in Potomac, MD at 5PM on Sunday, March 1. All are invited to this annual pan-Orthodox service. Bishop ANTHONY of the Antiochioan Diocese of Toledo and the Midwest will be the speaker.
Lenten suppers, classes, and Stations of the Cross will begin on Friday, March 6 and continue on Fridays through April 3. The classes this year will be an examination of five classic works on the spiritual life: The Confessions of St. Augustine, The Way of the Pilgrim, The Philokalia, The Ladder of Divine Ascent, and Unseen Warfare. We will begin these evenings at 6:30.
Liturgy for the feast day of our Patron, St. Gregory the Great will be on the Eve, Wednesday, March 11 and for the feast of the Annunciation of the Blessed Virgin Mary on the eve, Tuesday, March 24. Mass on both evenings will be at 7:30, with Vespers at 7 and a pot-luck supper following.
Thanks to the sewing skills of Linda Byrum and gifts from two parishioners, we have a beautiful new purple frontal to match our set of purple High Mass vestments.
At its meeting to elect new officers, the Parish Council elected Doug Byrum as president and re-elected vice-president Pieter Dykhorst, secretary Patrick Woolley, and treasurer Karl Tsuji.
Read the full March newsletter here.