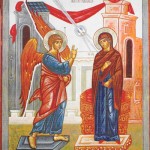 Having begun our Lenten observances on Ash Wednesday, February 29, we will spend the month of March concentrating on the disciplines of this season: fasting, prayer, penitence, alms-giving. As is our custom at St. Gregory's, we will set aside Friday evenings for Lenten suppers, classes and Stations of the Cross and Benediction. These will begin on Friday, March 9 at 6:30PM.
On the First Sunday of Lent, March 4, we will join with other Orthodox Christians for Vespers for the "Sunday of Orthodoxy" when we celebrate the return of the icons following the iconoclastic controversy. There are about 30 Orthodox parishes in the Washington area representing most of the ethnic jurisdictions, and this is a wonderful opportunity for us to affirm our common Orthodox faith. The service will be at St. Sophia Greek Orthodox Cathedral on Wisconsin Avenue at 5:30PM.
The Feast of the Annunciation falls on Sunday this year, but in the Western tradition, the feast is transferred to the next day. Our celebration will be on Monday, March 26. Vespers will be at 7PM, the Liturgy at 7:30 and a pot-luck supper will follow.
The Archdiocesan "Food for the Hungry" program coin boxes are available for your collection during Lent. The money collected is distributed by the Archdiocese to help alleviate poverty. Our Advent/Christmas/Epiphany collection resulted in 134 pounds of canned and dry food which we donated to Martha's Table.
His Grace, Bishop THOMAS, will make a visitation to St. Patrick's in Warrenton for the eve of St. Patrick's Day, March 16th. Please speak with Fr. Nicholas concerning the details if you are interested in attending the liturgy.
View the full newsletter here.