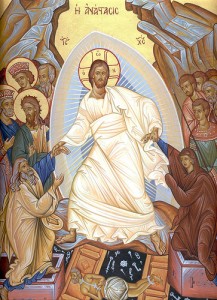 We begin this month with the holiest week of the liturgical year. Time stands still as we follow Our Lord's steps from His triumphal entry into Jerusalem until his Crucifixion and glorious Resurrection on Easter. We will share a bountiful Paschal feast at the meal following the Liturgy on Saturday, May 4. The Liturgy on Sunday, May 5, will begin at 11:00AM (there will be no Matins).
The celebration of the Dedication of St. Gregory's building will be transferred from May 6 to Tuesday, May 14, at 7:30PM (Vespers at 7PM and potluck supper following the Mass).
We welcome our missionary, Maria Roeber, back to the U.S. after her two-year service through the Orthodox Christian Mission Center. She will be one of the speakers at the OCMC banquet on Tuesday, May 21, at 6:30PM at St. Katherine's Greek Orthodox Church in Falls Church, VA. We look forward to hearing about Maria's work in Tanzania.
View the full May newsletter here.