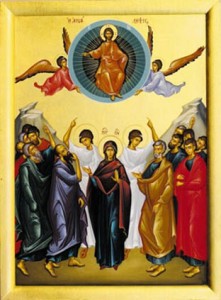 Christ is risen! Indeed He is risen! Our services for Holy Week and Pascha were very beautiful, thanks to the efforts of so many people. Clergy, acolytes, choir singers, flower arrangers, bread makers, cooks, cleaners, seamstresses – all worked diligently to beautify our celebrations. Thanks to all of you for your work.
St. Ignatius of Antioch said that: "You should act in accordance with the Bishop's mind…your Presbytery…is as closely tied to the Bishop as the strings to a harp. Wherefore your accord and harmonious love is a hymn to Jesus Christ." We will have several opportunities for showing this harmonious love in the near future. The first is when we greet Bishop THOMAS as he visits our parish on the weekend of May 10 and 11. All of us should be present for Vespers on Saturday evening at 6:00PM and a dinner in honor of the bishop following the service. Bishop THOMAS will also be with us at Matins (9:00AM) and Mass (9:30) on Sunday morning and will speak further to us at coffee hour that day. While Bishop JOHN, who was at St. Gregory's last year, is the overseeing bishop for the Western Rite, Bishop THOMAS is our diocesan bishop.
On Saturday, May 3, we will not have Vespers at St. Gregory's, but all are invited to St. George's on 16th Street, for Vespers as Metropolitan SILOUAN of Argentina will preside at this service. He is the Patriarchal Vicar for our archdiocese until we are given a new Metropolitan to succeed Metropolitan PHILIP of blessed memory.
A special convention has been called for the Archdiocese on June 5 in Chicago for the purpose of nominating three candidates for Metropolitan. The names of the candidates will then be sent to the Holy Synod of Antioch, who will choose the new Metropolitan. All clergy will be able to vote at this special convention and St. Gregory's is given the vote of one delegate.
The Antiochian clergy of our area have been invited by the monks of the Franciscan Monastery in Washington to offer Vespers on Sunday, May 18, at 5:00pm in prayer for the plight of the Christians in the Middle East. This service will coincide with a visit to Jerusalem by Pope Francis and Patriarch Bartholomew of Constantinople on the 50th anniversary of a similar meeting between Patriarch Athenagoras and Pope Paul VI.
We will celebrate the Ascension of Our Lord on the Eve, May 28, with Vespers at 7PM, Liturgy at 7:30 and a pot-luck supper following. The Paschal Candle, which has been burning at every service since the Paschal Vigil to represent the presence of the Risen Christ, will be extinguished at this service.
We bid farewell to Paul and Allison Higgins, who are moving to Portland, Oregon this month. We will always fondly remember their wedding at St. Gregory's last year, and look forward to hearing about the birth of their first child later this year. May God's blessings go with them.
View the complete May newsletter here.