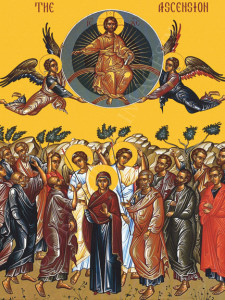 We continue to bask in the joy of the Resurrection in the month of May, through the celebration of our Lord's Ascension and ending the month with the great feast of Pentecost. Mass for the Ascension will be offered on the Eve, Wednesday, May 20, at 7:30PM (Vespers at 7). Several additional feast days will be observed this month: The Finding of the Holy Cross on Sunday, May 3 and the Sunday in the Octave of the Dedication of our Church on May 10. Vespers will be cancelled for May 9, as Metropolitan JOSEPH will be at St. George's on 16th St. that weekend. All are invited to attend Vespers at St. George's at 5:30PM.
Many thanks to all those who helped to make Holy Week and Pascha so beautiful: altar servers, bread bakers, flower arrangers, singers, cooks… all worked together to beautify this most important week of the Church year and to make our celebrations joyful.
We welcome Bernt Johnson into the holy Orthodox Church. Bernt was chrismated at the Easter Vigil and has taken as his patron saint St. Anthony of Egypt.
A parish work day has been scheduled for Saturday, June 6. Please mark your calendars now to help with our parish "spring cleaning".
View the complete May newsletter here.