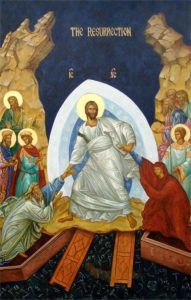 On Easter Day, May 1, we will celebrate Mass at 11:00 am. Just as at the Feast of the Nativity of Our Lord, it is the Western tradition to allow for three celebrations of the Liturgy on Easter. Fr. Nicholas and Fr. Raphael beg to be excused from the Mass to be celebrated at dawn!
Because of delays in the process of applying for Montgomery County permits for remodeling and preparing our new property and obtaining an occupancy permit, we will continue to meet on Sunday mornings at 6801 Greentree Rd., Bethesda, MD with the exception of Easter Sunday and Sunday, May 15. Please call 703-618-2348 for information about meeting place and time on these Sundays.
A parish work day has been scheduled for Saturday, May 14 for work on the Roxbury Road property – both inside the house and on the grounds. Please let Pieter Dykhorst, property committee chairman, know if you are available to help.
Read the complete May Newsletter here.