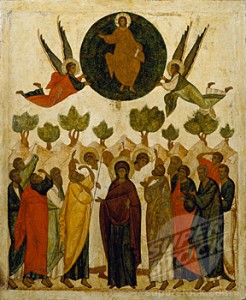 Thanks to all who helped make our Holy Week and Easter celebrations so beautiful: to those who served at the altar and prepared bread and vestments for the services; to those who sang, who prayed, and to those who brought food to share.  Christ is Risen! Indeed he is risen!
During this month of continuing Paschal celebration, we will observe the anniversary of the dedication of our church at the Liturgy on May 6. On May 20, the Sunday before the Rogation days, we will (weather permitting) process outside to bless the parish gardens at the end of Mass. On Wednesday, May 23, we will celebrate our Lord's Ascension on the Eve with Vespers at 7PM, Mass at 7:30 and a pot-luck supper following.
View the full May Newsletter here.