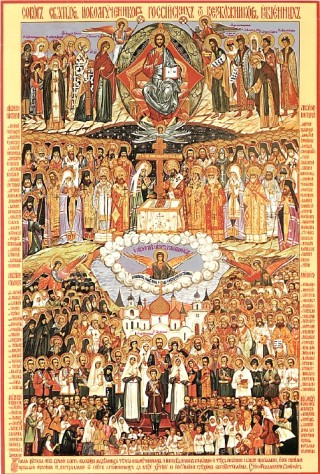 (February 4)
Our Western Rite calendar sets aside February 4 as a day to honor the memory of those numerous souls who perished in the persecutions of the Russian Revolution and its aftermath, including the recently canonized last royal family of Russia. In the book An Englishman in the Court of the Tsar by Christine Benagh, the author provides this background to the events of 1917 and after:
The battle lines had been formed long before Nicholas came to the throne, when the Western world embraced in varying degrees a socialist democratic ideology, putting its trust in enlightened social legislation and economic prosperity to transform the human race into unselfish, conscientious citizens fit for a new order. Faith in this enticing secular-humanist vision was rapidly displacing traditional religion. In the anticipated new world when man would be able to control not only himself but nature as well, the Kingdom of Heaven was becoming obsolete…the concept of deification would give way to sensitive socialization, and government's role would be to respond to the will of an empowered people – but a people who had turned their backs on God.
The Church in Russia struggled to adapt to the new circumstances following the assassination of the royal family. According to the late Sophie Koulomzin, in her book for Church School students, New Frontiers: The Orthodox Christian Church Through the Ages, Vol. II:
At first the Soviet government fought religion in a rather haphazard way. Blasphemous pageants were organized, posters ridiculed the church, a nationwide society called "The Godless" was created. Many priests were arrested for no particular reason. In those early days of terror there were so many unexplained arrests and executions [throughout society] that they could not really be called Church persecution.
Soon, however, executions (particularly of priests and bishops) became more organized, public and numerous. Religious activities were curtailed or ended entirely, religious education was forbidden, and the Church was forced to become an underground movement. It has been said that the 20th century saw more martyrdoms than all other centuries combined. May the holy new martyrs of Russia pray for us.