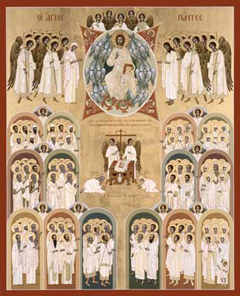 On Saturday, November 2, All Souls Day, we will celebrate a Requiem Mass at 10:00 am (with Lauds of the Departed at 9:30). Please give Fr. Nicholas the names of those you would like to have remembered at the altar.
The Feast of All Saints will be observed on the Sunday within the octave, November 3. As is our custom, you are invited to talk about the life of a favorite saint (and to come in costume) at Coffee Hour.
Weekly Bible Study on St. Paul's epistles to the Thessalonians continues at the Alford home (9415 Wire Ave., Silver Spring, MD). These are held on Wednesday or Thursday evenings at 7:30pm. Please speak with Fr. Nicholas if you wish to attend. All are invited to join at any time.
View the complete November newsletter here.