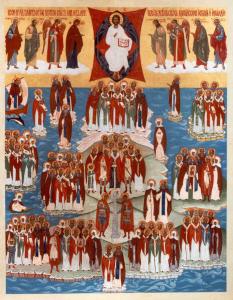 We begin the month of November with the celebration of an important feast on the calendar of the Western Rite – the Feast of All Saints. The actual feast day is November 1, but we will observe the Sunday in the Octave of the Feast. At the end of Liturgy that day, as we have given thanks for and sung the praises of the saints, we will offer for veneration the relics of the saints which are kept on the altar at St. Gregory's – those of St. Gregory, our patron, St. Nicholas, St. Lucy, and St. Sebastian.
All Souls Day, when we pray particularly for our departed loved ones, follows All Saints Day and will be observed on Monday evening, November 3 with a Requiem Mass at 7:30 (preceded by Vespers of the Departed at 7:10pm). Please remember to give Fr. Nicholas the names of those you wish to be remembered at the altar in that Mass.
Another feast day Liturgy during this month is that of the Presentation of the Theotokos in the Temple, which we will celebrate on the Eve, November 20, with Vespers at 7pm and the Mass at 7:30. A pot-luck supper will follow the service.
We end the month of November with the beginning of the liturgical year on the Western Rite calendar. November 30 is the First Sunday of Advent and the beginning of the fast and other preparations for the celebration of our Lord's Nativity.
Please mark your calendars now for the weekend of November 15 and 16. St. Gregory's will host the visit of Fr. Ken DeVoie from the Archdiocesan Department of Missions and Evangelism. Fr. Ken will meet with members of the Parish Council on Saturday to talk about the vision of St. Gregory's, evangelism, and our mission. This discussion will continue with the entire parish family on Sunday. Coffee Hour will be a pot-luck lunch so that we can all stay at church for this important conversation.
Catechism classes continue on designated Sundays following coffee hour. Any who are interested in a refresher course on the basics of the faith are invited to attend. Continuing education for the whole parish continues with "Ask Abouna" at coffee hour and Sunday School for the children of the parish.
View the full November newsletter here.