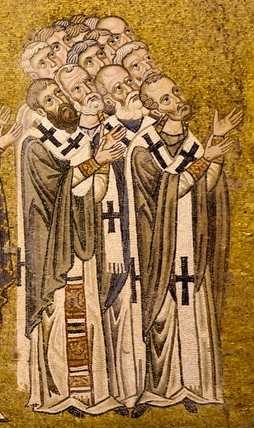 Thanks to all who have participated in the work days at our new property, clearing leaves and dead tree branches and other yard work.
The month of November brings a wonderful collection of feast days in the liturgical year, beginning with All Saints Day on Sunday, November 1. At the end of Mass that day, we will sing the Litany of Saints as we venerate the relics of those saints we have at St. Gregory's: Saints Gregory, Nicholas, and Lucy. As has been our custom, we will continue the celebration of the lives of the saints at coffee hour following Mass. All are invited to give a brief description of a patron or favorite saint.
On All Souls Day, Monday, November 2, Lauds of the Departed will be sung at 7pm, Requiem Mass at 7:30, and a pot-luck supper will follow. Please give the names of loved ones you wish to include in the prayers for the departed at that service to Fr. Nicholas.
We will share in the joyful celebration of Holy Matrimony of Candace Archer and Patrick Woolley on Saturday, November 7, at 11:30am at St. George's Church on 16th Street.
On Sunday, November 8, we celebrate the Patriarchs and Prophets of the Old Law, a feast day which honors those Old Testament luminaries who prepared the way for the Messiah, our Lord Jesus Christ.
The Feast of the Presentation of the Theotokos in the Temple will be celebrated on Saturday, November 21, with Mass at 10am (Matins at 9:30), followed by a pot-luck brunch.
After coffee hour on Sunday, November 22 – the feast day of St. Cecilia, who is the patron saint of church musicians – Fr. Nicholas and Kh. Becky will give a brief demonstration of our parish's pipe organ, as it will soon be dismantled and put into storage.
We begin a new Church year on Sunday, November 29, the First Sunday of Advent. In this season, we prepare ourselves to greet our Lord Jesus Christ in His human form at Christmas and we prepare ourselves for His coming again in the last days.
Read the full November newsletter here.