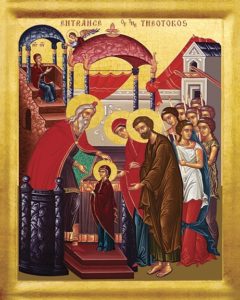 As is our custom, we will celebrate the feast of All Saints (which is actually on November 1) on the Sunday within the Octave, November 5, and we will have a Requiem Mass for All Souls Day on the Eve, Wednesday, November 1. Please provide the names of loved ones you wish to be remembered at the altar on All Souls. Also, please prepare to share the story of a favorite saint following the Liturgy on November 5.
We will also celebrate the feast of the Presentation of the Theotokos in the Temple on the eve, Monday, Nov. 20. All evening services are at 7:30, preceded by Vespers at 7 and followed by a pot-luck supper.
Fall work days have been scheduled for Saturday, November 4 and after church on Sunday, November 5. Volunteers are needed to prepare the church grounds for winter.
The Parish Council has asked Fr. Gregory Matthewes-Green to talk with us about evangelism. Fr. Gregory, who is the pastor of Holy Cross parish in Linthicum, MD, Diocesan Missions coordinator, and Dean of the local parishes of our Diocese, will speak after Vespers on Saturday, November 18. It is important that all who are able be here to discuss how we can make ourselves known in our new neighborhood and how we can be evangelists for Christ in our time and place. Please bring something to share for a pot-luck supper.
Read the full November newsletter here.