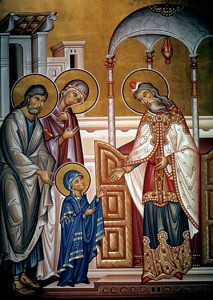 There are several important feast days in the month of November, beginning with the great celebration of All Saints on November 1. We will transfer our observance of this day to the Sunday within the octave, November 4. As has been our custom for many years, we will continue the celebration with a party at coffee hour following Liturgy. You are all asked to tell about a favorite saint (costumes and "props" are welcome!).
We honor the lives of our departed loved ones on All Souls day, November 2. A Requiem Mass will be celebrated on the Eve, November 1, at 7:30 (Vespers of the Departed at 7:10PM) with a pot-luck supper following.
The feast of the Presentation of the Theotokos in the Temple will be celebrated on the Eve, November 20, at 7:30PM with Vespers before and supper afterward.
View the full November newsletter here.