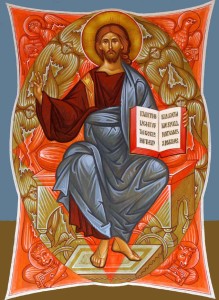 We will celebrate two major feast days in October: We observe The feast day of St. Luke, one of the four Evangelists, a physician, an iconographer, and a missionary on October 18, which falls on a Sunday this year. The Feast of Christ the King on the last Sunday in October reminds us that Christ is the ruler of the entirety of our lives.
Our annual parish picnic has been scheduled for Sunday, October 4 following the Liturgy, at St. Gregory's new property on Roxbury Road in Silver Spring, Maryland. We will enjoy good food and fellowship, games and the beauty of nature. Please sign up for food donations and bring a folding chair if you are able.
On the afternoon of the picnic, we will also have the ceremony of the planting of the Cross. The sculpted icon of the Crucifixion, which has served as an outdoor shrine on the patio at Euclid Street will be placed on the grounds of our new property to signify that this land will now be dedicated to God. In case of rain, the picnic will be held indoors at Euclid Street and the Cross planting will be postponed.
Congratulations to Fr. Raphael Garcia on his appointment as the Chaplain and Director of Pastoral Care at the Sanctuary at Holy Cross in Burtonsville, Maryland. He will also continue his duties as our assisting priest.
Candace Archer and Patrick Woolley would like to invite the St. Gregory's family to attend their wedding on Saturday, November 7, at 11:30 am. To accommodate their families and friends, the wedding will be held at St. George Orthodox Church on 16th Street in Washington, DC. Please send your replies to this invitation to their website by October 16th: theknot.com/us/ candace-and-patrick or by calling or texting 301-524-9476.
Read the full October newsletter here.