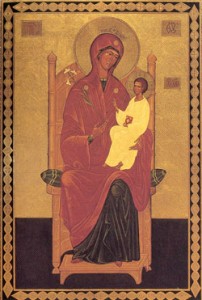 In addition to our normal schedule of services, we will celebrate the feast of Our Lady of Walsingham on Saturday, October 20. This celebration of a vision of the Theotokos by an English woman, the building of a shrine and the subsequent centuries of pilgrimage to this shrine has been observed by the Western Rite parishes of the Eastern region as an opportunity to come together for worship and fellowship. This year, St. Gregory's is the host parish, and we will welcome our brothers and sisters in Christ for Matins at 9:30AM, Mass at 10:00 (subject to change!) and a brunch following on that day. We will end our time together by singing a Litany to the Blessed Virgin Mary.
His Eminence, Metropolitan PHILIP, has appointed His Grace, Bishop JOHN as the hierarchical overseer for the Western Rite; His Grace also serves as the auxiliary Bishop of the Diocese of New England. He will make his first visit to St. Gregory's on Saturday, January 26th and Sunday, January 27th. Please mark your calendars for this important occasion.
View the full October newsletter here.