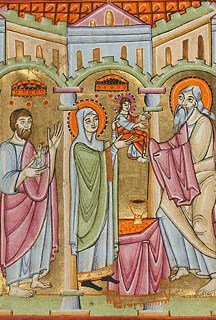 We begin and end the month of February with special services and we make the transition from the Christmas cycle of celebrations to that which is determined by the date of Pascha. Candlemas – also known as the Presentation of Christ in the Temple and the Purification of the Blessed Virgin Mary – will be observed on the eve, Wednesday, February 1. The blessing of the candles to be used during the year (hence the name "Candlemas" ) will begin at 7:00 pm. The Liturgy will be at 7:30 and at the end, we will anticipate the feast of St. Blaise (February 3 – the patron saint for illnesses of the throat) with the blessing of throats. As usual, we will enjoy a pot-luck supper afterward.
The season of Epiphany ends the week of Sunday, February 5, followed by three transitional Sundays – the "gesimas": Septuagesima, Sexagesima and Quinquagesima – before Ash Wednesday begins the Lenten season. On February 29, we will having the blessing and imposition of ashes at 7:00 pm followed by Liturgy and a Lenten pot-luck supper.
We are in the process of a major, professional rebuild of our parish website (stgregoryoc.org) and the new site should be available for use very soon. The work is being done by Fr. Hans Jacobse, a priest of our archdiocese, whose secular profession is web design. The new site should be much more "up-to-date" in appearance and will include a slide show of photos of parish life, audio files of our choir singing and many more articles and information.
Through generous gifts from parishioners and a friend of the parish, we have recently acquired a new set of red vestments for High Mass. These will be used on Palm Sunday, during Pentecost and on all feasts of martyrs.
Despite the predictions of winter ice, we were hosts to about a dozen guests from Pennsylvania and Ohio at the Mass and breakfast before the March for Life. Having this Mass each year reminds us that the issue of reverence for life from conception is not a political issue but a basic truth of our Christian faith.
View the full newsletter here.