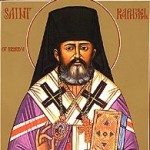 (Feast Day ~ February 27)
In these troubling times, amidst the constant reports of violence, hatred, corruption, and neglect, we tend to concentrate on human sinfulness and doubt that there are any holy people left. We are tempted to believe that there are no more saints in this world. But the church reminds us that in every age, good and devout men and women have lived their lives in such a way that we revere them as saints – saints who serve as examples to us and to whom we can pray for assistance in our journeys in this life.
Raphael Hawaweeny was such a man. On the weekend of May 28 and 29, 2000, the Orthodox Church in America (OCA) celebrated the Rite of Canonization for Bishop Raphael, whose earthly life and ministry here in America had a profound and lasting effect.
The Hawaweeny family was from Damascus but had moved to Beirut to escape the turmoil following a Druse uprising. Soon after the birth of Raphael in Beirut on November 8, 1860, they returned to Damascus where he spent his early years. As a young man, he attended the Ecumenical Patriarch's theological school at Halki, was ordained a deacon in 1885, and committed himself to the life of a monk. In 1888 he was given permission for further study at the Kievan Academy in Russia. Ordained a priest in 1889, he became the dean of the Antiochian Embassy church and later began teaching at the Academy of Kazan.
Raphael did not fear to speak out against what he knew to be wrong. This was a time of rising national and ethnic consciousness among Arabic speaking people and his voice was among those who called for an end to Greek domination of the Antiochian Patriarchate. Eventually the See of Antioch again received a Patriarch from among the native population.
Meanwhile, on the other side of the world, a rapidly increasing number of immigrants was streaming onto the vast continent of North America where communities of Orothdox Christians who needed the ministrations of the Church were forming. As had been typical from earliest times, hierarchical authority in a missionary land was given to the Patriarchate which arrived in that land first – in the case of America, the Patriarchate of Moscow. The Russian church had provided many holy men for ministry in the New World since the 18th century – St. Juvenaly, St. Herman, and St. Innocent among them. In the 19th century, the American mission shifted to include the pastoral care of the Orthodox immigrants from many parts of the world who came here to begin a new life.
The Arabic community in Brooklyn, New York, had heard about Fr. Raphael and requested that he be sent to them to be their priest, a request that was granted with Fr. Raphael's arrival in new York in 1895. After nine years of labor in this vineyard, Fr. Raphael was consecrated bishop on March 12, 1904 – the first Orthodox episcopal consecration in this country. The bishop was given responsibility for al the Arabic Christians scattered over this vast land. With selfless zeal, Bp. Raphael traveled constantly, by train across this country, stopping in small towns to seek out the Arab-American Orthodox. He celebrated Liturgies, performed baptisms and marriages, and established parishes, helping to provide for their physical needs (vestments, liturgical books, etc) as well as their spiritual ones. He started the Arabic language magazine, Al-Kalimat, which is now published in English as The Word, our official Archdiocesan magazine.
Of special interest to those of us who have sojourned in the Episcopal Church is Bp. Raphael's encounter with clergymen of that church. At first, he was interested in communication with these men in the optimistic hope that a common ground could be found which would eventually bring about union. More immediately, he was interested in being able to offer pastoral care for his people who were in isolated areas far from an Orthodox church. But after closer observation and study, Bp. Raphael came to the inevitable realization that:
the doctrinal teaching and practices as well as the discipline of the whole Anglican Church are unacceptable to the Holy Orthodox Church. I make this apology for the Anglicans whom as Christian gentlemen I greatly revere, that the loose teachings of a great many of the prominent Anglican theologians are so hazy in their definition of truths, and so inclined toward pet heresies that it is hard to tell what they believe. The Anglican Church as a whole has not spoken authoritatively on her doctrine. Her Catholic-minded members can cull out her doctrines from many views, but so nebulous is her pathway in the doctrinal world that those who would extend a hand of both Christian and ecclesiastical fellowship dare not, without distrust, grasp the hand of her theologians, for while many are orthodox on some points they are quite heterodox on others. I speak, of course, from the Holy Orthodox Eastern Catholic point of view. The Holy Orthodox Church has never perceptibly changed from Apostolic times, and, therefore, no one can go astray in finding out what she teaches. Like her Lord and Master, though at time surrounded with human malaria – which he in mercy pardons – she is "the same yesterday, and today, and forever" [Hebrews 8:8], the mother and safe deposit of "the truth as it is in Jesus.' [Eph. 4:21]
We thank God for the spiritual example and strong leadership which St. Raphael provided. When St. Raphael fell asleep on February 27, 1915, there were thirty parishes under his care. The chaos which followed the Russian Revolution of 1917 had terrible repercussions for the Orthodox Church in North America, but the strength which helped the Church to survive those times was due in alrge part to the work of this untiring man of God.
Bishop Raphael consecrated the grounds for the first Orthodox monastery in North America, St. Tikhon's in South Canaan, Pennsylvania, and it is on those grounds that his glorification took place. We rejoice in the recognition of this saint of God and ask for his prayers in heaven.
[This information was gleaned from several publications: The ancient Church on New Shores: Antioch in North America by Archpriest Antony Gabriel; articles in the May 200 issue of The Word magazine; articles in the Oct. – Dec. 1999 and the Jan. – Mar. 200 issue of Again magazine; and "Pastoral Direction and Instruction on Orthodox and Protestant Episcopal Relations and Ministrations in America" provided by then Vicar-General Fr. Paul Schneirla.]