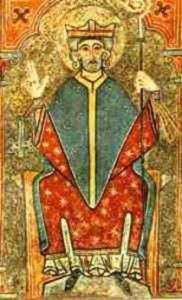 (Feast Day ~ June 22)
Paulinus had it all – he came from a prominent family with wealth and property; he had received an excellent education; he was respected as a lawyer and public official; he had achieved some renown as a poet; he had a devoted wife. But something was missing, and finding it changed Paulinus' life forever. Lay not up for yourselves treasures upon earth..but lay up for yourselves treasures in heaven…for where your treasure is, there will your heart be also. [Matthew 6:19-21]
Born in Bordeaux around 354 (the son of the Prefect of Gaul), Paulinus studied with the poet, Ausonius, and developed some skill at writing poetry himself. For a while, Paulinus served as governor of the Campania region of Southern Italy and here he learned about St. Felix, a 4th century Christian martyr, whose relics were in the city of Nola.
Paulinus married a Spanish wife, Therasia, and for several years, they enjoyed the leisurely life of Roman nobles, staying at their various properties in Gaul, Italy and Spain. A son was born to the couple but died shortly after birth.
Whether it was due to this tragedy, the influence and example of others, the memory of St. Felix in Campania, or the nagging discontent at not finding happiness, Paulinus and Therasia decided to become Christians (unlike his friend and correspondent of later years, St. Augustine, Paulinus did not record the turning of the heart, the change of mind, that resulted in his conversion). The two were baptized by Bishop Delphinus of Bordeaux around the year 390. My soul is athirst for God, yea even for the living God: when shall I come to appear before the presence of God? [Psalm 42:2]
Soon the couple began to retreat from the life they had been living. They gave away many of their possessions and moved to Barcelona, where they lived in quiet simplicity. In 395, Paulinus was ordained to the priesthood at the urging of the local people.
Returning to Nola in Campania, Paulinus and Therasia used more of their own money to build a guesthouse for pilgrims and debtors and they established a semi-monastic community in their home. Paulinus soon built a new church for the relics of St. Felix, which he adorned with marble, wall paintings, and a mosaic of the Holy Trinity in the apse. Each year, Paulinus paid homage to the saint by writing a poem for the celebration of his feast day. According to some reports, Paulinus introduced into the church the use of bells for calling the faithful to worship. Give unto the Lord the glory due unto His name; bring an offering, and come before Him; worship the Lord in the beauty of holiness. [1 Chronicles 16:29]
Around 409, Paulinus was consecrated bishop for Nola and for over 20 more years, he continued his pastoral ministry among his people, caring especially for the poor. He maintained correspondence with other bishops and priests – notably with St. Augustine. He continued writing poetry and used this form as a means of pastoral expression (writing a hymn extolling the sanctity of Christian marriage for a friend and a poem of comfort for parents on the death of a child, his own personal experience providing inspiration).
St. Gregory the Great, in his Dialogues describing the deeds of the saints, tells of a heroic sacrifice on the part of Bishop Paulinus. When the barbarian Vandals invaded Italy, one of their practices was to steal the inhabitants of towns and force them into slavery. The only son of a poor widow of Nola was taken in this way by the son-in-law of the Vandal king. The woman pleaded with the bishop to use his influence to have her son returned, but Paulinus had already spent all his money ransoming others and paying the Vandals to spare the town. So, with nothing else to offer, the bishop offered himself in exchange for the boy. The Vandal was skeptical at first about the ability of this old man to be of any use to him, but when Paulinus told him that he could serve as gardener, his offer was accepted and the child was returned to his mother. While the bishop patiently tended the garden and provided herbs for the table of the king's family, he also talked persuasively to members of his household. Eventually, when the king learned that this gardener was an important leader of the community of Nola, he repented of the actions of his people and returned all the citizens of Nola who had been taken into slavery. Greater love hath no man than this, that a man lay down his life for his friends. [John 15:13]
St. Paulinus died of natural causes in the year 431 and his feast day is celebrated on June 22, his heavenly birthday. May we, like St. Paulinus, seek happiness – not in the things of this world, but in service to God and our fellow man. Surely thy loving-kindness and mercy shall follow me all the days of my life; and I will dwell in the house of the Lord for ever. [Psalm 23:6]