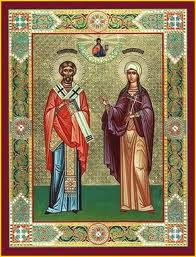 (Feast Day ~ October 25)
How often do Christians today underestimate the power of personal influence? We so seldom realize how much our behavior, attitudes and reactions affect those around us. Our friends and co-workers learn much about our faith from noticing how we treat others, observing our positive or negative attitudes in different life situations, and seeing how we respond to adversity.
Could others be converted to Christianity just by observing us? Would anyone be inspired to come to church because of something we said or did? The phenomenal spread of Christianity in the first several centuries – despite hardship and persecution – is largely due to the personal influence of individual men, women and children whom we now revere as saints. The story of Saints Chrysanthus and Daria provides a dramatic example. May we learn from them how to show the love of Christ in our lives.
Chrysanthus was Egyptian by birth, brought by his father to live in Rome when he was a young man. Despite his excellent education, Chrysanthus felt an emptiness which caused him to search continually for something that would fill the void. When he discovered a copy of some of the Scriptures, he had found the answer. Intrigued by the stories of Christ's teaching and miracles, Chrysanthus found a teacher – the priest Carpophorus, who could tell him more about this fascinating religion. Despite the danger of engaging in this illegal activity, the young man soon requested baptism from Carpophorus.
Chrysanthus' father was incensed at the change in his son. A young man such as this, in the prime of his life, should be enjoying the pleasures of this world and "sowing his wild oats", but instead his son was enthusiastically telling others about One who had risen from the dead, admonishing people to love and do good to those who hated them!
In an effort to bring his son "to his senses", the father paid prostitutes to tempt Chrysanthus with the allurements of the flesh, but the young man held fast in chastity. Then, in desperation, the father managed to arrange a marriage contract for him with one of the priestess-virgins of the Temple of Minerva.
By the grace of God and through patient and loving conversation, Daria, the betrothed, was soon converted to Christianity too. As she had taken a vow of chastity in her former life, it was not difficult for Daria to agree with Chrysanthus to dedicate their lives wholly in service to the true God. The young couple began preaching to all they knew and came in contact with, and many souls were converted.
Soon, the success of the pair's efforts were noticed by the authorities. Not only were they preaching an illegal religion, there were also complaints that the young people were advocating celibacy, something which was not popular in Roman society. The Christians were arrested and Chrysanthus was sent before the Tribune Claudius to be tortured.
The unwavering faith and bravery of the young man and his lack of anger and bitterness toward his tormenters so impressed Claudius that he and his wife, Hilaria, and their sons, Jason and Maurus, also sought instruction in the Christian faith. They and their whole household were baptized into the Church.
News of this turn of events was not received well by the Emperor, Numerian, who ordered that the disobedient tribune be drowned and his sons beheaded. Their bodies were buried by the Christian community in a nearby cave and here, Hilaria came frequently to pray for the repose of their souls. She was eventually followed by the authorities, also executed, and her relics were placed in the cave with those of her family.
In the meantime, Chrysanthus and Daria continued to be under arrest. Daria was sent to a brothel (perhaps considered the ultimate punishment for one who had chosen to remain a virgin). There, a lion protected her from harm, defending her against all who would defile her. Chrysanthus was thrown into a sewage pit, but no harm came to him, to the amazement of all who witnessed it. Finally, the Roman authorities ordered that the couple should be executed by stoning and being buried, while still alive, in a sand pit.
More martyrdoms occurred when Christians gathered in a cave near this pit to pray and celebrate the holy mysteries. The cave was sealed shut and all those inside joined Saints Chrysanthus and Daria, Claudius, Hilaria, Jason and Maurus in gaining a crown of glory around the year 284. Through their examples, many others came to know Christ so that, a half-century later, Christianity would become the official religion of the Roman Empire.
In increasingly more parts of the world today, we are seeing a renewal of the conditions in which these saints were martyred just for believing in Christ and telling others of His love. If each of us were put to this test, would our behavior inspire others and lead them to Christ? Holy Chrysanthus and Daria, pray for us that this may be true.