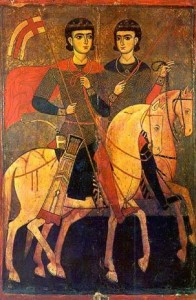 (Feast Day ~ October 7)
On October 7, we celebrate the feast day of two Roman soldiers who received the crown of martyrdom in the Diocletian persecutions.
According to traditional accounts, both Sergius and Bacchus were officers serving on the frontier of the empire and were highly regarded for their bravery. However, when their Christian faith was discovered, they were tortured in order to bring them back into line with the expectations of members of the army. Christianity presented a competing allegiance that could not be tolerated.
Bacchus was beaten so badly that he died from his wounds. Even after being made to run eighteen miles in shoes bearing sharp nails on the soles, Sergius still survived and so was beheaded.
There are many today who find that their professions come in conflict with their Christian faith: medical practitioners who work in hospitals which perform abortions; school music directors who are not allowed to have their choirs sing religious Christmas music; office workers who may not wear crosses or have icons on their desks.
We believe that the saints pray for those of us who are still on our earthly pilgrimage. We ask for their prayers in the certain knowledge that they will intercede for us to the Father. May the prayers of Ss. Sergius and Bacchus aid all who experience conflicts between their work and their faith in our Lord Jesus Christ.