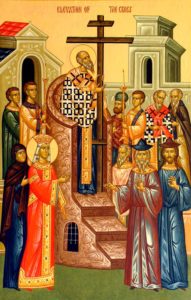 We will celebrate the feast of the Exaltation of the Holy Cross on the eve, Tuesday, September 13. Vespers will be sung at 7PM with Sung Mass at 7:30 and a pot-luck supper following (call 703-618-2348 for location).
We welcome Jonathan Augustine Mallory to the holy Orthodox Church and to our family at St. Gregory's. Jonathan was chrismated on Sunday, August 28.
Congratulations to Bernt Johnson, who recently received a master's degree in Strategic Intelligence from National Intelligence University.
We will continue to collect articles for cleanup buckets for International Orthodox Christian Charities. These supplies are being sent to areas of our country which have been devastated by floods, particularly West Virginia and Louisiana.
We have finally been granted a building permit by Montgomery County for remodeling the existing building on our new property on Roxbury Road in Silver Spring. This work will begin soon, and we expect that the remaining permits for outside work (paving, storm water management, etc.) will also be received soon. A loan of $250,000 to cover the construction and other costs has been secured with Revere Bank. God willing, we will have an occupancy permit in a few months and will finally be able to make this beautiful property our church home.
Read the full September newsletter here.