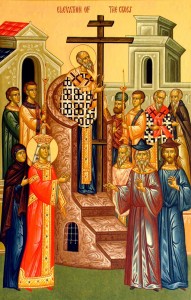 On Sunday, September 7, students and teachers in the parish will be given a blessing at the end of the Liturgy that their minds may be set on learning the ways of God as well as their other studies. We will also continue our parish custom of taking home-baked cookies to the Howard University students living in our neighborhood. Sunday School classes will resume this month as well as Fr. Nicholas' "Ask Abouna" sessions at Coffee Hour.
Two great feast days will be celebrated on Sundays this month : The Nativity of the Blessed Virgin Mary (moved from September 8 to September 7 by permission of the Metropolitan) and on September 14, The Exaltation of the Holy Cross.
Metropolitan JOSEPH, the auxiliary bishop of Los Angeles and the West was elected as our new metropolitan by the Holy Synod of Antioch in July. We pray for God's guidance for him as he leads our archdiocese. His Enthronement will be at St. Nicholas Cathedral in Brooklyn on St. Nicholas' Day. Axios!
Read the full newsletter here.