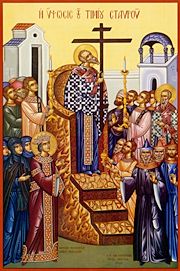 There are three major holy days in this month which we celebrate in the Orthodox Western Rite: the Nativity of the Blessed Virgin Mary (September 8), the Exaltation of the Holy Cross (September 14), and the feast of St. Michael and All Angels (September 29). Since the first and last of these holy days fall on Sundays this year, we will set aside those Sundays after Pentecost in order to celebrate the feast days.
On Saturday, September 14, the Exaltation of the Holy Cross, we will celebrate with Matins at 9:30AM and Mass at 10:00AM. Following this, all are invited to the home of Fr. Nicholas and Khourya Rebecca for our annual Parish Picnic. Their new home will be blessed at this time as well. (The blessing of a new home is in a slightly different form that the blessing of homes at Epiphany.)
View the full September newsletter here.