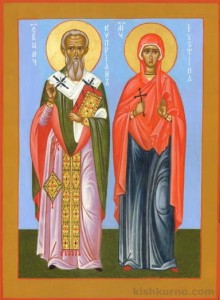 Stories of "love triangles" are usually found in Hollywood movies and romance novels. But there is at least one such story that we find in the lives of the saints of the Church.
In the years before St. Constantine became Emperor, Christians were subjected to everything from suspicion and derision to torture and murder. Young Christian women were especially vulnerable, and many had difficulty in protecting themselves from the amorous advances of men who did not share their faith.
Justina of Damascus, the daughter of pagan parents who had secretly converted to Christianity, found herself in this predicament. A young nobleman – suitable for her in every way according to society's standards – sought to marry Justina. Without revealing her true reasons in those dangerous times, Justina repeatedly rejected her suitor's proposals.
The young man was not easily deterred, however, and he sought help from an unlikely, but not uncommon for the time, source – a magician. Cyprian was famous throughout Syria for his abilities in the occult "sciences". He had traveled to Phrygia, Chaldea, and Egypt to study astrology, sorcery and other magical arts. He was sought after by many for his ability to predict future fortunes, to effect outcomes and cast spells and curses. Justina's would-be lover (whose name is lost to history) procured the services of Cyprian to persuade (whether by spell or potion) Justina to succumb to his charms.
When Cyprian went to observe the object of his assignment, he was completely smitten by the young woman himself. Her beauty was great, but her humility and kindness to others was greater. Cyprian had never known a woman like this. He decided to cheat his client and use his magical skills to win her for himself.
As Justina went about her duties among the Christian community, she soon felt herself under intense attack by unknown demons. She was beset by temptations, doubts and frustrations, but with the help of her priest and fellow Christians, she fought valiantly against the forces of the devil. She prayed for the intercessions of the Theotokos and she sought protection in the sign of the Cross. Through much prayer and many tears, Justina remained a faithful Christian.
Cyprian knew he was defeated. But more than that, he knew that it had been due to a higher power, one that he had never encountered before but that he desired with all his heart to know. Cyprian was then himself assaulted by the devil, his former master, and was driven to despair with feelings of worthlessness.
Cyprian sought help in the same way that Justina had – from the Church. He presented himself to the priest Eusebius, whom he had known as a child. To the astonishment of all, Eusebius took Cyprian to the Mass of the Catechumens where the penitent described hearing the choir of men singing as angels, adding Alleluias to the verses of the Psalms. Soon, to demonstrate his complete desire to give up the life of a magician and become a Christian, Cyprian burned his magical books and apparatus before the bishop and was admitted as a catechumen.
In the following years, Justina continued to be an example of virtue and purity among her fellow Christians, as well as her family, who entered the Church through her example. Cyprian, who after his baptism had asked to be allowed to sweep the floor of the church and had been made a Doorkeeper, was eventually elevated to the priesthood, having completely turned his life to God. We hear no more about Justina's rejected lover and can only pray that he, too, became a follower of Christ
After many years of penance and faithful living, Cyprian was made a bishop. (There is some confusion with another bishop of the same name so the city of his episcopacy is not definite). And then, in the year 304, a fierce persecution of Christians was begun. Among the Christian leaders who were arrested and brought before judges, Bishop Cyprian found himself once again with the one who had initiated his conversion, Justina. They were both tortured severely but they would not renounce their beliefs in Christ as Lord of all. They were sent, in chains, to Nicomedea, where they appeared before the Emperor Diocletian himself, who casually sentenced them to be beheaded.
The relics of Justina and Cyprian, now revered as saints of God who had received the crown of martyrdom, were secretly retrieved and taken aboard ship to Rome. When St. Constantine changed the world by making Christianity legal, a church was built in Rome for the relics, but they were later translated to the Church of St. John Lateran.
We know the story of this "love triangle" and its holy outcome through the witness of the Christian poet Prudentius, of St. Gregory Nazianzen and the Empress Eudocia, all of whom wrote about these saints. Through the intercessions of Ss. Cyprian and Justina, may God protect us from all assaults of the devil.