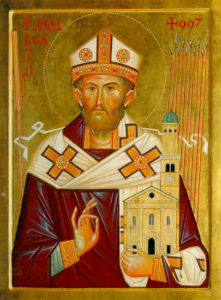 (Feast Day ~ April 23)
The conversion of Eastern Europe toward the end of the first Christian millennium is a story of many different elements vying with one another for prominence in the history of this area. While the work of such missionaries as St. Boniface and Ss. Cyril and Methodius had brought the Christian faith to the Germanic and Moravian peoples in the 9th century, paganism was still very much alive among others in the next century, making for uneasy relations between neighboring territories. Ancient ethnic rivalries stood in the way of peace. Some of those lands which had become at least nominally Christian struggled with the relationship between the authority of the Church and that of the civil rulers. Although the Latin and Slavic languages co-existed in liturgical usage, the Byzantine Empire in the East and the Holy Roman Empire in the West competed for influence in this area, both politically and ecclesiastically. In the midst of these struggles was St. Adalbert of Prague, whose memory we celebrate on April 23.
Adalbert – called Vojtĕch by his family – was born around 956 to a Christian Czech prince and his Bohemian wife. After their son survived a serious illness in childhood, his parents dedicated him for service in the Church and to this end, sent him to Magdeburg to study with (St.) Adalbert, a monk and archbishop with missionary zeal. Vojtĕch took the name of his mentor. When the elder Adalbert died in 981, the younger man returned to Prague where he was ordained to the priesthood by the bishop, Dietmar. A year later, when Bishop Dietmar died, Fr. Adalbert was chosen as his successor despite his being under the canonical age requirement.
The people of Prague expected to continue their practice of Christianity in name only. They expected that a young bishop from a wealthy family would fit in very well but Bishop Adalbert disappointed them. At his consecration, he remarked that it would be easy to wear the mitre and the crown but quite another thing to answer to the Judge of the living and the dead for his care of his people. The bishop led an austere life, giving a portion of the diocese's income and much of his personal wealth to the poor; he opposed Christians who participated in the slave trade and who practiced polygamy; he visited those in prison and worked for their release.
Bishop Adalbert spent six years trying to establish true Christianity among the Bohemian people, but made little progress. When his family refused to participate in a war with the Polish people, the bishop was no longer welcome so he left Prague. In 990 he traveled to Rome, where he lived as a hermit in the Benedictine Monastery of St. Alexis
Boleslaus, the ruling Duke in Prague, did not give up in seeking the support of Adalbert's family for his political ambitions and so, in 995, he wrote to Pope John XV and requested that the bishop be returned. The pope agreed, with the understanding that Adalbert could leave again if he felt it necessary. Upon his return, Bishop Adalbert established the first monastery in Czech territory. But his time in Prague was very short-lived as war again broke out between rival factions and his brothers were killed in the fighting. In the midst of this turmoil, a woman accused of adultery sought sanctuary in a monastery and the bishop upheld her right to do this. After her accusers broke into the monastery and murdered her, Bishop Adalbert excommunicated them. Once again, it was not safe for him to remain in Prague so he returned to Rome.
The man who was appointed to be the successor to Bishop Adalbert in Prague, Strachkvas, died unexpectedly and mysteriously during his Consecration Mass and the Pope ordered Adalbert to return to Prague. This time, Adalbert successfully begged to become a missionary instead and so went into Hungary, where he baptized Grand Prince Géza and his son, Stephen (later St. Stephen of Hungary). Further missionary efforts took him into Poland where he was made bishop of Gniezno. Bishop Adalbert desired to preach the Christian faith to the Prussian people, who were enemies of the Poles, so the duke of Poland sent soldiers with the bishop for his protection. This no doubt contributed to the hostility with which the missionary was received. Although many of the people were receptive to his preaching, the pagan priests strongly objected to his presence.
St. Adalbert was murdered by stabbing on April 23, 997. He was decapitated and his head displayed on a pole. Duke Boleslaus of Poland ransomed his body for its weight in gold and it was sent back to Gniezno, where a shrine for his relics was built. Later, Prague also received relics of the saint and another shrine was built. Within three or four years of his martyrdom, Adalbert was declared a saint and several "lives" were written by monks and bishops who had known him. In the centuries since, he became known as the patron saint of Bohemia, Poland, Hungary and Prussia. In 1997, the one thousandth anniversary of his martyrdom was celebrated by the Orthodox, Roman Catholic, and Protestant churches of Poland, the Czech Republic, Germany and Russia.
Are the times we live in any less tumultuous than those which St. Adalbert experienced? Do not some of the same struggles between Church and State and Christian and non-Christian still exist?
Are there not still tensions between East and West in our world? May St. Adalbert intercede for us that we may remain steadfast in the Faith against opposition, that we may share his missionary zeal, and that we may be prepared even to suffer martyrdom. Holy Adalbert, pray for us.
Sources; Lives of the Fathers, Martyrs and Other Saints by Rev. Alban Butler; Greek East and Latin West (Vol. II of the Church in History) by Andrew Louth; online Wikipedia article.