(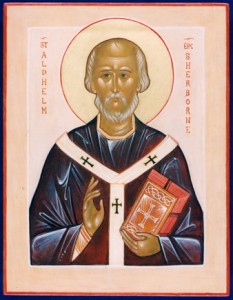 Feast Day ~ May 25)
As we journey through life, seeking perfection by conforming our wills to God's will, we are surrounded by many mentors, both among our fellow Christians and those saints – apostles, teachers, missionaries, martyrs and monastics – who have gone before us. Through their examples, their writings and their intercessions, we are encouraged and made stronger in our quest for holiness. The Church is the guardian of holy Tradition and asks her children to maintain and pass it on for future generations. We are not to be innovative or "original" but to be faithful to that Tradition which has been given to us.
In the month of May, we honor St. Aldhelm, whose life exemplifies this practice of following – and then being – a mentor in the faith. St. Aldhelm, whose feast day is May 25, lived from 639-709. He received his early formation in Christian living at the ecclesiastical school founded by St. Theodore, the (Greek) Archbishop of Canterbury and headed by St. Adrian, the (African) monk who had accompanied him to the British Isles at the insistence of (Italian) Pope Vitalian in 669.
Aldhelm had been sent as a young man by his West Saxon family to Canterbury for his education in the Church under the guidance of Adrian, in what was considered the best school in England. There he studied Latin and Greek, Roman law, mathematics and music, as well as the Bible (in the Antiochian literal style of interpretation).
On leaving Canterbury, he entered the monastery of the Irish monk Maidulf, which became known as Malmesbury Abbey. Adlhelm eventually succeeded Maidulf as abbot and admirably fulfilled his responsibilities for guiding and teaching his monks. The main written testimony to his work that we have is his treatise "On the Praises of Virginity" in which he gives the insights of Ss. Augustine and Jerome among others. He built churches dedicated to the holy Mother of God and to St. Michael. The austerities which he practiced included the Irish custom of reciting the Psalter at night standing in the shoulder-deep water of a pond.
After thirty years as abbot, Aldhelm was chosen as bishop for the newly-established Diocese of Sherbourn (which was later moved to Salisbury) and he had to be forcibly taken from his cell to be consecrated! However, he performed his episcopal duties with the same devotion and diligence that he had his monastic ones, and died five years later while traveling to visit his parishes. Miracles were attributed to him during and after his lifetime.
May we, through the example and intercession of St. Aldhelm, strive to maintain and pass on – through our words and actions – the Orthodox faith which we have received.