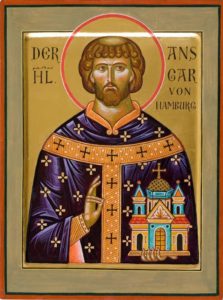 (Feast Day ~ February 3)
Every housekeeper knows the feelings of frustration and failure while scrubbing, mopping and dusting to clean the house, when a set of muddy paws or an accident of spilled food spoils all the hours of labor. These feelings – greatly magnified – must have been experienced by many of the saints who took to heart our Lord's call to "go therefore and make disciples of all the nations, baptizing in the name of the Father and of the Son and of the Holy Spirit". [Matthew 28:19]
The efforts of many missionary saints were not met with immediate success: some were martyred before they could see the results of their teaching; often converts relapsed into their former pagan way of life. Sometimes a ruler who had become a Christian and whose subjects were following their leader's example was succeeded by a ruler who put an end to Christian conversion during his reign. Helping others to come to the knowledge of the love of Christ has never been an easy task. But we know that when a seed is planted it will grow and produce fruit, even if it takes many years to germinate and many other missionaries to carry on the work Such was the case with St. Anskar, 9th century "Apostle to the Scandinavians".
Anskar was the son of a noble Christian Frankish family, born in 801 near Amiens (modern-day France?). His mother died when he was young and his father sent him to Corbie Abbey to live and later to be educated by the Benedictine monks in Picardy, where Anskar eventually took monastic vows. As a boy, Anskar did not show any particular interest in religion until he experienced a vision regarding the mother he had lost. He saw her with the Blessed Virgin Mary, assuring him of her happiness and from that moment on Anskar became serious in his devotion to Christ and the saints. Such visions continued throughout his life, guiding him in the decisions and actions he took regarding his missionary endeavors.
In 826, Harald Klak, an exiled Danish king, came to the court of Louis the Pious (one of Charlemagne's sons) at Ingleheim to receive Christian baptism. He had expected – as had the Franks who were helping him – to return home to consolidate his rule and bring more of his Danish subjects to Christianity. Anskar and a group of other monks were sent with him to carry out this latter work.
But King Harald was not accepted as a king over others and the expectation for mass conversions did not happen. So in 829, King Louis sent Anskar and the friar Witmar as missionaries in Sweden and a small congregation was formed there. (Another of Anskar's visions preceded his journey to Sweden in which he met an abbot who gave him instructions as to what would happen.) In 831, Anskar was consecrated Archbishop of Hamburg, a new diocese with the challenge of evangelizing the northern lands – Denmark, Norway and Sweden. The new archbishop first founded a monastery and school for the purpose of educating young Danes.
In 845, without warning, the Danes raided Hamburg and destroyed the church and all its treasures and books. Two years later, Anskar was given the diocese of Bremen but due to some canonical irregularities regarding the division of dioceses, this was not made permanent until 864.
In the meantime, Bishop Anskar continued to work for the conversion of the people of the north. During a Danish civil war, he established good relations with the king; he was able to have Christianity accepted as a "tolerated" religion and was given permission to build a church. During several more trips to Sweden, he found the king receptive to accepting the Christian God, but only as one of several gods. The Swedes expected to test this new God's power to help them by striking a deal: would He give them success in battle if they endured the Christian fasts!
When Archbishop Anskar passed from this life into the next in the year 865, there was not much to show for his missionary efforts in Scandinavia – a few churches, some converts, but not the conversion of kingdoms as had been hoped. But seeds had been planted which came to new life in future generations. The introduction to Christianity that St. Anskar had made to the people of the north, the increased contact with Christian practices and beliefs after raids in the British Isles and Germany, and the greater desire on the part of later rulers to accept Christianity finally brought to realization the missionary dreams of St. Anskar.
We know from the Life of St. Anskar, written by his successor as Archbishop, Rimbert, that St. Anskar was diligent in his ascetic practices, living only on bread and water at times. He was charitable to the poor and worked to free slaves. May we remember St. Anskar's missionary zeal, his willingness to plant the seeds of the Gospel in a sometimes hostile land, and .his patience in adversity. Holy Anskar, pray for us.
[References: The Rise of Western Christendom by Peter Brown; The Oxford Dictionary of Saints by David Hugh Farmer; The Barbarian Conversion by Richard Fletcher; Greek East and Latin West – the Church AD 681-1071 by Andrew Louth; online article from Wikipedia.]