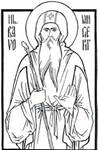 (Feast Day ~ October 1)
Christians have always invoked the prayers of the saints, especially in times of crisis. Often, an apparition of a saint or angel, or possession of relics, has provided comfort and encouragement in perilous times for individuals, cities, or even whole nations. Since the time of our national tragedy, September 11, 2001, we Americans would do well to pray for divine protection as others have done in times past.
On October 1, the Church celebrates the feast day of St. Bavo, who has served as the patron saint of Haarlem in the Netherlands.
Bavo, born Allowin in c. 613, was a Flemish count, noted for his "ruthless, dissolute way of life." His one great virtue during his early life was the love he had for his wife. Her sudden death brought about a complete transformation in Bavo.
In his grief, Bavo became a Christian and gave away his fortune. He repented of his former evil ways – even to the point of freeing a man he had unjustly sold into slavery and becoming that man's servant. Bavo accompanied St. Amand on some missionary journeys and under his spiritual guidance and that of St. Floribert, he became an ascetic, living as a hermit near the city of Ghent.
After his repose in c. 659, the relics of St. Bavo were kept at Ghent and in the city of Haarlem. Revered for his repentance and humility, the saint became known as a "heavenly intercessor" and the people of Haarlem adopted him as the patron of their city.
May St. Bavo remind us that it is never too late for repentance and turning away from sin, and may we never cease to ask for the intercessions of the saints for protection for our cities and country.