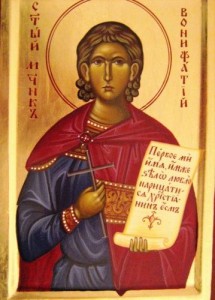 (Feast Day ~ May 14)   
Time and time again we are reminded that God, in his infinite mercy, will receive even the most dissolute sinners if they repent of their sins and turn to him. The story of the Passion, which we hear many times in Holy Week, gives us the penitent thief as an example. The sermon of St. John Chrysostom, which we hear at the Paschal Vigil, reminds us that, even at the 11th hour, God will welcome sinners home.
Such a repentant sinner was Boniface, who served in Rome as the steward of the household of Aglae, a beautiful and wealthy pagan woman who lived a scandalous life. She was a well-known socialite who indulged in drunkenness, sexual promiscuity, and the dishonest acquisition of more wealth. Boniface was her right-hand man in these affairs. His only redeeming characteristic was his loyalty to his mistress.
The Christians of Rome were, at this time (the late 3rd century), experiencing relative peace, but in the East, persecution raged against the followers of Christ. When Aglae heard of the torture and killing of Christians and of how those who were spared took up the bodies of the martyrs, buried them with reverence, and then reported miracles of healing in connection with these relics, she determined to have some for herself. Perhaps she was feeling sorry for herself as the first signs of age and the results of debauchery became apparent; or perhaps she wanted to add another "charm" to her collection of amulets of superstition.
Aglae commissioned Boniface to travel to Tarsus to retrieve the body of a martyred Christian. He jokingly replied that he might lose his life in this venture and that it might be his body that would be brought back to her. Laughingly, she called him a "drunken old fool" and sent him on his way.
The journey from Rome to Tarsus afforded Boniface much time for thought. It also brought him news of the Christians who were being martyred – of their steadfast refusal to deny Christ no matter what the cost to themselves; of their perseverance in the face of great pain; and of how they forgave their torturers even as they were being put to death. Boniface's worldview – which hitherto had focused on pleasure and financial gain, no matter what the cost to others – was being turned upside down. He began to feel the first stirrings of repentance within himself.
As he arrived in Tarsus, Boniface witnessed firsthand the trials of those who followed our Lord. His heart was so moved that he wanted to be numbered among those for whom Truth was valued above all the pleasures of this world.
Boniface called out to the soldiers that he, too, was a Christian, and he was immediately apprehended and subjected to torture. After enduring flogging and having his flesh burned, he was finally beheaded. As he had predicted in jest, Boniface's body was now taken by servants of Aglae back to Rome for burial by his mistress.
An angel appeared to Aglae to tell her of this and she went out to meet the servants as a changed woman. She buried the body of her steward and spent the remaining years of her life repenting of her sins and those which the two had committed together. She gave away her wealth to help the poor and built a church as a monument to Boniface.
In the words of St. Nikolai Velimirovic of Ochrid, "martyrdom for Christ makes sinners into saints." May St. Boniface pray for us that our repentance may lead us to holier lives.