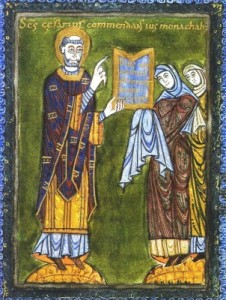 (Feast Day ~ August 27)
Anyone who tries to lead the Christian life will, of necessity, be concerned with discipline. In order to strive for perfection, we must learn to reign in selfish passions, to curb the appetites, and to set our minds on heavenly things.
In the saints, the Church has given us models for helping to develop this discipline. By their examples, and through their intercessions, we can learn to lead Christ-like lives. St. Caesarius of Arles, whose feast day we celebrate on August 27, is one of the shining examples of such a saint.
The first lesson that we can learn from St. Caesarius is that of generosity. He was born in 470 in Burgundy and it is said that, even as a young child, he gave away his clothing to those he saw who were in need. Later, when he had become a bishop, he gave away the church's treasures – even melting down censors and chalices – to pay for the care of those suffering from the ravages of war. He sold gifts from kings to ransom prisoners, and he established hospitals for the care of the sick and wounded. St. Caesarius shows us that concern for others and charity toward them is an important step in developing discipline.
At the age of 18, Caesarius convinced his bishop to allow him to live as a monastic, serving first in his local church and then entering the monastery at Lerins. The devout young monk practiced such severe austerities that his health began to suffer, so the abbot sent him to Arles to seek the advice of the archbishop, Eonius, who was a relative. Eonius wisely kept Caesarius under his wing for a while, ordaining him deacon, later priest, and then appointing him as abbot for a monastery which had been built on an island in the Rhone River outside the city of Arles.
St. Caesarius teaches us another step in developing discipline from this stage of his life. He found that the monks of his monastery had not been accustomed to praying all the office on a daily basis. So he set about establishing the regular routine of singing the office seven times a day and once in the night. Abbot Caesarius encouraged the lay people in the area to join the monks at prayer whenever their work allowed them time, and taught that prayer should be from the heart and not just from the lips. Thus, he established regular prayer as a part of the discipline of Christian living
When Eonius died, Caesarius was the unanimous choice to succeed him as archbishop of Arles. Even though the abbot hid among the tombs in a cemetery in an attempt to escape this responsibility, he eventually accepted God's will for him and became Archbishop in 501 at the age of 30.
Now Caesarius faced the challenges of attacks on the Church from within. The heresy of "semi-pelagianism" was spreading among the clergy and people at this time, and Caesarius held several diocesan councils to refute the idea that faith is initiated by man alone and that God predestines some to damnation. St. Caesarius required his clergy to study and preach the faith based on the teachings of the Fathers, and he was beloved as a preacher of the Word, always speaking to the people in clear, down-to-earth terms. We are blessed to have many of his sermons available to us today. St. Caesarius teaches us that to achieve a disciplined life, the Christian must always seek the Truth and be faithful to apostolic teaching.
St. Caesarius lived in turbulent times. His people were caught up in the struggle for rule between the Visigoths, the Ostrogoths and the Franks. Twice the shepherd was taken from his flock and sent into exile – first because of his Burgundian heritage and later because he had come to the aid of prisoners of war. In all of this violence and instability, St. Caesarius never ceased to show Christian love toward all, and to make no distinction between life in the Church and life in the world.
While in exile in Bordeaux, he saved the people of the city from destruction by fire through his prayers. When he was taken as a prisoner to King Theodoric in Ravenna, he so impressed the king with his humility and kindness that the king immediately set him free and sent him costly gifts (which were, of course, sold to ransom captives). We learn from St. Caesarius' example that to lead a disciplined Christian life, one must never be duplicitous or two-faced in his relations with friend or enemy. The Christian must show the love of Christ to all.
St. Caesarius took advantage of his time in Ravenna to travel on to Rome and to meet with Pope Symmachus. The result of their meeting was the issuing of several decrees to protect the church in Gaul from some abuses which had existed, especially regarding the administration of finances.
St. Caesarius returned to Arles in 514 and was able to lead his people for 28 more years. When he recognized that he was nearing death, he asked to be carried in a chair to a monastery of nuns which he had founded nearby with his sister as the first abbess. The nuns were engaged in working with wool and embroidery, making and mending clothing for themselves and others in the city. In addition to the hours of prayer, their rule called for two hours of reading from scripture and the Fathers each day, and some of the nuns were also engaged in transcribing and illuminating manuscripts. St. Caesarius had a special affection for these nuns and they for him. He now tried to prepare them for his death and, returning to his cathedral, he ended his earthly life of service among his clergy on the eve of St. Augustine's day, August 27, 542.
May we, through the prayers and example of St. Caesarius, attain the discipline necessary for leading a Christian life. May we exercise charity, pray regularly, seek the Truth, and show Christ's love to all as we seek perfection.