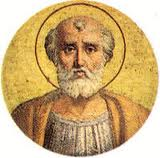 (Feast Day ~ October 14)
There is neither Jew nor Greek, there is neither slave nor free, there is neither male nor female; for you are all one in Christ Jesus. [Galatians 3:28]
Then he said to Jesus, "Lord, remember me when you come into your kingdom." And Jesus said to him, "Assuredly I say to you, today you will be with me in Paradise." [Luke 23:42, 43]
St. Callistus must have remembered these words from Holy Scripture many times, for they applied directly to him.
Callistus was born into slavery in the household of Carpophorus, a Christian and, as a young man, was entrusted by his master with bank deposits made by other Christians. The slave "lost" the money and fled from Rome to escape punishment. He was caught, however, and sentenced to the treadmill. At the intercession of the Christians whose money he had stolen, the slave was released from this sentence. But Callistus was soon in trouble again – and again money was the source of the trouble. In attempting to collect debts from Roman Jews, he was arrested for brawling in a synagogue and sentenced to labor in the mines of Sardinia. This time, release came through the intercession of the Emperor Commodius' mistress, Marcia, who obtained the pardon of a number of Christian convicts (was she perhaps a secret Christian?)
Callistus received not only the commutation of his sentence but also his freedom from the bonds of slavery and upon his release, Pope Zephyrinus took charge of him and gave him an assignment (one which did not involve money!) which he carried out faithfully and competently. Callistus was put in charge of the burial ground along the Appian Way, where Christians – particularly the martyrs – were buried. This cemetery eventually came to be known as the Catacomb of Callistus and can be visited today (although the relics of those originally buried here were translated to churches after Constantine became Emperor and made Christianity legal).
Callistus' transformation of life, his devotion to his duties and his faithful service to Zephyrinus led to his ordination as a deacon. Seventeen years later, when his bishop died, Callistus was elected to succeed him as Pope of Rome.
Having led an exemplary Christian life for many years and haveing been elected to this high office in the Church did not prevent Callistus from being surrounded by controversy. As has happened to many Christians, St. Callistus' greatest source of turmoil and dissension was a fellow Christian, Hippolytus (who also was martyred for the faith and is a saint of the Church). Callistus' election was contested by Hippolytus, who accused him of the heresy of Sabellianism (the idea that God only acts in three different ways, as Father, Son, and Holy Spirit).
The bishop – who had known the joy of forgiveness – was also severely criticized for allowing back into communion in the Church those who had repented of various crimes (including adultery and murder). He who had known slavery, went against Roman civil law in allowing marriages between Christians who were ex-slaves and those who were high-born, in order to spare Christian women, especially, from having to marry non-Christians.
When the Emperor Severus began to persecute the Christian community in Rome, Bishop Callistus continued to care for his people, particularly the clergy. He stayed in the poorer sections of the city and sought to recover the bodies of those who were martyred. On October 14, 222, St. Callistus received the crown of martyrdom himself.
May we, like St. Callistus, rejoice in our freedom from slavery to sin and death; may we, like him, pray the prayer of the penitent thief: "Remember me, O Lord, in thy kingdom"; and may we pray that St. Callistus will intercede for us as we seek to transform our lives and to turn from sin to holiness of living.
Sources: Oxford Dictionary of Saints, David Hugh Farmer; Oxford Dictionary of the Christian Church, ed. F. L. Cross; Lives of the Saints, Alban Butler.